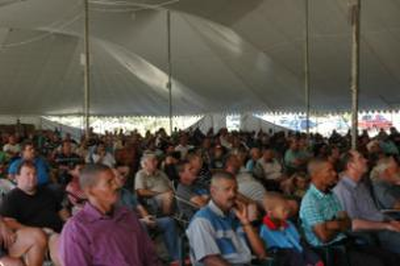 Mighty Men in the Western Cape can look forward to two MMC events in the region in 2014.
MMC Western Cape is joining forces with MMC Overberg to help them organise the next MMC Overberg which will be held at Tarentaalkraal  between Greyton and Caledon from March 14 to 16. And later in the year, at a date to be announced, MMC Western Cape will host its own MMC at Konstabel, near Touws River.
Rudolph Kock, a Caledon pastor and secretary of the Overberg MMC Committee says he is "very excited" about the partnership with the MMC Western Cape which he is certain will boost attendance at the February event, which will be their fourth Mighty Men Conference since 2011.
He said that in previous years, out of respect for the MMC Western Cape, they had only advertised their event in towns in the Overberg/Boland area. Now that they are joining forces with MMC Western Cape they will promote the event in Cape Town and other bigger Western Cape centres as well.
Evangelist Johnny Louw will be one of the main speakers for the weekend. A second main speaker is still being finalised. More information about the event can be obtained by emailing mightymenoverberg@gmail.com.
The MMC Western Cape camp at Konstabel will be MMC WC's first event since a camp on Elohim Farm near Paarl in 2011. The conference was suspended in 2012 and an event planned for September, 2013 was postponed because of the international travel commitments of Mighty Men founder Angus Buchan who will be in Israel at that time.
According to a post on the MMC WC Facebook page, they have joined forces with Johnny Louw and his ministry and "together we will strive to ensure that every man going to a MMC in the future will receive tools to become a disciple of Jesus Christ and to start making disciples in his community and to join a church and become the king, prophet and priest of his household as Jesus planned us to be".