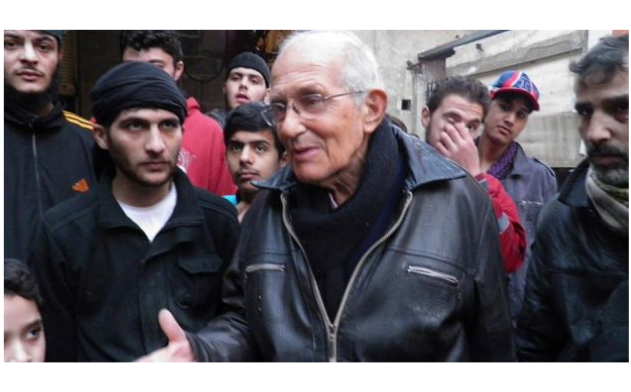 By Open Doors SA
A Jesuit Priest, Frans van der Lugt, was killed in Homs on Monday morning. Armed men apparently entered the monastery where he lived and took father Frans. Dutch broadcaster, NOS, reports that he was beaten while inside, but once outside, he was shot with two bullets to the head.
Originally from the Netherlands, the 75 year old priest, known among people in Homs as Abouna Fancis, became well-known because of his care for elderly and disabled people in the old city of Homs in the midst of the civil war.
In January 2014 his heart cry was heard in a YouTube video message when he called for help for the people inside the city: "We want to live. We do not want to die from hunger and pain."
In early February, hundreds of Syrians were allowed to leave the besieged city. Father Frans was one of those who were allowed to leave. But the Jesuit chose to stay. "Even if all Christians decide to leave, then yet I will stay. I am here for Syria. I want to serve all Syrians and I want to serve the country of Syria….the country I love."
As a psychotherapist, Van der Lugt left the Netherlands in 1966 as an idealist to build bridges between Christians and Muslims. He first studied in Lebanon and after that he lived for over 40 years in Syria, most of that time in Homs.
A Dutch Jesuit, Jan Stuyt, spoke on the phone with Father Frans a week before his death and said that his voice was powerful and full of hope.
According to Stuyt, he was called "father" by most of the people. Not only because of his title, but because he filled this fatherly role to the people of his neighborhood, which he supported with food, medication and by just being there with them.
An Open Doors spokesman added: "Father Frans wanted to build bridges between Christians and Muslims in the Middle East. I'm now thinking of the approximately 28 needy people – the elderly and disabled – that are still there. And the brave little team of workers in the monastery. Let's pray that this siege will be over in two weeks, just as Father Frans hoped for."
Syria is #3 on the Open Doors 2014 World Watch List of the worst persecutors of Christians.