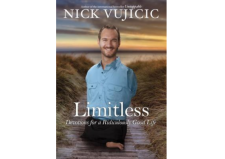 Book review by Andre Viljoen
LIMITLESS: Devotions for a Ridiculously Good Life by Nic Vujicic
Limbless Nick Vujicic does not just talk about overcoming odds, he epitomises it. And so, who better to write a book of encouraging devotions than this evangelist, author, and inspirational speaker who has overcome his great physical limitations by learning to trust in God's limitless love and power and plan for his life.
The book comprises 50 short devotions which each take about three to four minutes to read. Each devotional begins with a key Bible verse, then goes into a short narrative, and concludes with a practical application. In the devotions Vujicic shares wisdom and insights he has gained in overcoming struggles in areas such as faith, relationships, career challenges, health concerns, self esteem and more. His frankness, sense of humour and rich repertoire of personal testimonies are refreshing. I loved his prank story about posing as an underwear dummy in a shop window, and another about how he learned to dial his smartphone with his one toe and then flick the phone onto his shoulder to speak.
I noticed a positive online review of the book by a Muslim reader. It made me think that Nick's courageous optimism and perseverance connects with all people and opens the door for sharing truth about God. This book would make a good gift for an unbeliever or a doubter!