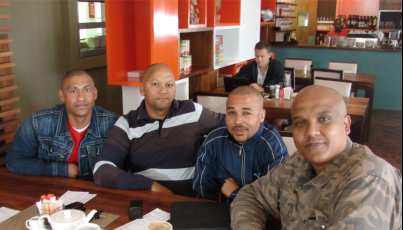 "Every gang member knows that there is a God and they have a respect for that God. They just don't know that they can access that God and that He loves them."
I was drinking coffee with Pastor Justin Oliphant, founder of Endangered Species, and with three former Port Elizabeth gangsters, who now share the love of Christ with the endangered species that they are committed to protecting — youth at risk and youth in conflict with the law.
One of the problems, continues Oliphant, is that although gangsters believe in God and respect Him, they become intoxicated with the wealth and power they get on the street.
"We were ministering the Gospel one day at a drug post. It was a Thursday and this kid was 18 or 19 and his eyes were filled with tears. We challenged him with the Gospel and he said  'Yeah, when I'm ready'. And we said, 'Dude  this might be your last chance'. That Saturday night they shot and killed him right there."
Oliphant says that in 2011 more than 50 young people died in gang violence in the Northern Areas of PE. This year more than 21 young people have already been killed in gang activities in Kleinskool, a Northern Areas township.
Dying without Christ
"Its a reality; not ony the fact that people are dying but they are dying without Christ – without knowing that there is an alternative," he says.
Reaching out to Northern areas youth caught up in the web of gangsterism has been a passion for years. As a fulltime church pastor street ministry was a part of his work. But in 2007 he was 'promoted' to the street fulltime.
"Our main thrust has been going into gang-infested areas and covering the area with prayer, with a mandate to change the spiritual climate of an area. We choose areas where there is an increase in murder and shootings — sometimes in the midst of shootings we would be in the area praying."
Oliphant says he and his team members get to know gang members, start praying with them at their drug posts, and eventually reach their families and pray with them too.
"It is so critical that we take the light into the darkness," he says.
"I remember once we stood outside a drug post and asked the guy inside if we could come in and pray and he said, 'No, not here, you would have to make an appointment'. I said, 'Look here dude, we are not here to do things on your terms. We are here because we have a mandate from God and we don't have to come inside because God is so powerful. We will pray on the outside and God is going to do something in your life there'. And we started praying and the next thing he unlocks the gate and says, 'Please don't pray aloud in the street. Please come inside'.
Preview of Endangered Species documentary:
"And since then we have been going there on almost a weekly basis. These guys phone us to pray for them when somebody is sick, when they need to go to court, and when they face all kinds of challenges. And they have experienced the power of prayer. Some of their members have left the gang and are walking with us."
He says that contrary to popular belief former gangsters are not killed for leaving the gang to follow Christ. Their sincere convictions are respected.
"But we have had death threats on a constant basis, even up to now, from people who are not happy with what we are doing. But on street there is a saying you are only as big as the biggest man you associate with. And the guys notice that we kind of roll with the biggest there is. You cannot stand against the God of the universe!"
Last year Oliphant created a hard-hitting documentary called Endangered Species, about gang violence and its impact on families.
"We use it to show our young people and our gang members how we are perceived in the world out there, and to ask them whether this is how they want to continue living."
He says the film influenced some gang leaders to approach him earlier this year, saying they realised they couldn't carry on killing each other.
"In April they entered into a peace agreement. What makes this peace agreement different is that in past gangs had peace agreements but every gang would be on its own turf and they would avoid each other. But now the guys have forgiven each other. Within a week or two guys went to the court and said, 'Look, I forgave this man, I harbour no hatred. I will withdraw every charge against him'. "
The withdrawal of charges confused the judicial system and reporters, says Oliphant. Tabloids said its was just a ploy to get cases withdrawn, and would not last a month.
"Now almost 6 months down the line the peace is still in effect. It's a God thing, not a manmade ting. Now we have people who were enemies paid to kill each other working together in schools, ministering the Gospel to kids — standing together in public, going to other gangs, sharing the love of Christ."
Oliphant says that in order to ensure that it has a lifespan beyond its current members, Endangered Species this year became a part of Zanethemba, a respected local ministry that runs a baby haven and various community projects. Under the umbrella of Zanethemba they were being mentored in how to manage budgets and how to work under the guidance and leadership of an established organisation.
Lifeskills programme
Currently Endangered Species is busy presenting a gang prevention lifeskills programme at a few junior and high schools in the Northern areas. They have chosen schools which are perceived to be the "worst" in the area. Oliphant says they are seeing good results from the programme which they developed themselves.
"The main focus is on developing a healthy picture of who you are: looking at yourself through the eyes of Christ as someone made in the image of God with a purpose and a Godly calling and realising that there is so much value in every one of us."
Within the next month they plan to launch a job centre aimed at empowering people with a range of business and workplace skills and ethical values. The centre will be run by Shaun Tarentaal, a former gang leader, and one of the men at our coffee chat yesterday.
The other two men at our coffee meeting, Wesley Qantoi and Lineen Whiteboy, are both part of the team that shares testimonies with schoolchildren and with gangsters.
Quantoi says that one night at Easter time last year, while he was still involved in gangsterism and drug sales, he was watching television in his rented house in Summerstrand. Something made him look to the right and he saw a demonic spirit walking past. There and then he decided that this was where he would draw the line. He went to church and gave his heart to the Lord.
Whiteboy says he was involved in crime and drugs from early in life. At the age of 14 he was sentenced to 10 years imprisonment. While in jail at St Albans Prison he joined the 26 gang. But on his release last month he met up with Oliphant, who knew him when he was a boy. He gave his life to the Lord and now loved to encourage young people to turn to God.
"I tell them that what the Lord has done for me he can do for them," he says.