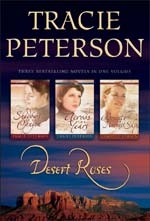 Book Review by Amanda Mould
DESERT ROSES by Tracie Peterson
Genre: Romance and Adventure
Put away the Mills and Boons ladies. Turn from sordid love stories which promote sex out of marriage and lust. As Christians we need to look around our everyday lifes and see how we live in sin by consuming books which teach us every thing that goes against what the word of God teaches us. Some ladies will say but I like a good love story with a happy ending that is why I read these romantic novels. Well do yourself a favor go to your local Christian bookshop. There are wonderful romantic novels to cheer your heart.
Desert Roses is a book with 3 romantic novels in it. This set of books by Tracie Peterson is a great read for woman of all ages and even for the man who wants to learn how a gentleman treats a woman.
In Shadows of the Canyon, Alexandra Keegan longs to create a future far from her father and the increasing audacity of his indiscretions. But a tragic death brings speculations of murder, leaving her shaken by the implications–for her and those she loves. In Across The Years, Ashley Reynolds disowned by her parents for marrying a man they disapproved of, faces even greater hardship when she loses her husband in a tragic incident…and she's left alone with a baby on the way. In Beneath A Harvest Sky, Rainy Gordon has caught the eye of a famous movie actor, but the past she's left behind threatens to haunt her again when she becomes a suspect in an investigation.
The great thing about a Christian Romantic novel is that you are not bombarded with sex, and lustful pornographic scenes which are so common in literature today.