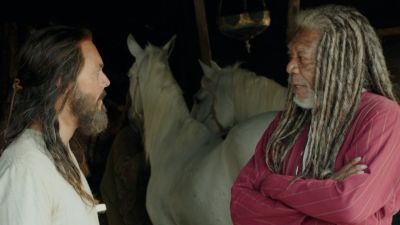 Originally published in The Gospel Herald

Now, behold, I release you today from the chains on your hands — Jeremiah 40:4, is the biblically inspired opening of the most recent movie trailer of an American historic action film remake entitled Ben-Hur, starring Morgan Freeman and Jack Huston, slated to be released in theatres on August 19 2016.
The movie which will make it to South Africa cinema screens on September 16 elevates Christian themes of justice, liberty and radical forgiveness, as well as a classic story about rising above adversity.
"Ben-Hur is a movie that is what Christians have been asking for. A real Hollywood epic with a legitimate Christian worldview," wrote author Brian Godawa. "It has some fantastic action sequences that rival anything in recent blockbusters, and in ways far more human and interesting than most of those gluttonous orgies of overspent excessive CGI comic book world destructions. Ben-Hur is more like Saving Private Ryan and better for it."
Bursting with action – including a new chariot race for the ages – the film promises to tell the tale of Judah Ben-Hur (played by actor Jack Huston), a prince falsely accused of treason by his adopted brother Messala (actor Toby Kebbell), an officer in the Roman army. Stripped of his title and separated from his family and the woman he loves (actress Nazanin Boniadi), Judah is forced into slavery and despair.
After five years at sea, a breath-taking turn of events sends Judah on a journey back to his homeland to seek revenge, where a chance encounter with Jesus of Nazareth (actor Rodrigo Santoro) transforms his life and leads him to discover grace, mercy and ultimately, redemption.
 The movie was directed by Timur Bekmambetov, and written by Keith Clarke and John Ridley. It is the fourth film adaptation of the 1880 novel "Ben-Hur: A Tale of the Christ" by Lew Wallace following the 1907 silent film, the 1925 silent film and the Academy Award-winning 1959 film of same names.
It has been termed a "re-adaptation", "reimagining" and "new interpretation" of the novel. Principal photography began on February 2 2015 in Rome, Italy, and lasted for about six months, finishing in August 2015. The film is scheduled to be released in the United States in 2D, 3D, RealD 3D and Digital 3D and IMAX 3D.
Diane Howard of the Austin Movie Examiner  said the following about the movie:  "AXS/Austin Movie Examiner has screened the new 'Ben-Hur' and interviewed Roma Downey, Mark Burnett, the directors, as well as leading actors and can easily predict that this film will be the seminal movie for this summer, as it serves in stunning locations with real, powerful action and great depth of heart."
Edward Shih, publisher of The Gospel Herald wrote, "Ben-Hur 2016 is masterfully and artfully produced, as it repackaged the faith epic Tale of Christ in a way that today's generation can easily relate to and enjoy.
The film lays out plainly the quintessence of the life of Christ – his sacrifice and forgiveness – and the transformative power of the Gospel that can change even the most unforgivable circumstances between brothers, nations that are marred by the never-ending cycle of hatred and vengeance.
Ben-Hur 2016 is a timeless classic that will remain relevant for generations to come and a must-see for all who are hoping and longing for change in today's deeply-conflicted world!"