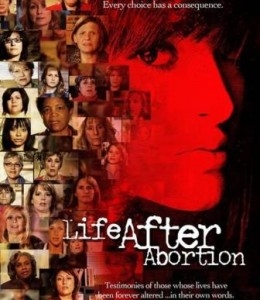 DVD review by Bronwyn van Zyl, director Alternatives Pregnancy Crisis Centre
LIFE AFTER ABORTION
Genre: Documentary Film
Life After Abortion is a collection of real life testimonies about abortion shared by women from a variety of backgrounds who have walked this devastating road. It is filmed in a way that is life affirming, acknowledging that every child is created in the image of God and has great value. Parental Guidance is advised as the description of an abortion experienced can be disturbing to a young or sensitive viewer.
This film will give you an excellent overview of the effects of abortion on a woman's life. There is a strong belief in our society that abortion is a quick and painless way to escape from a crisis pregnancy. Anyone who watches this film will realize that the physical and emotional effects of an abortion are far reaching.
Many of the women speak of the manipulation and harsh treatment that they experienced at the abortion clinic. Very little compassion is shown to these women who are in crisis and desperate for help. It is obvious that the women did not have any counselling prior to going for the abortion and so did not know what to expect. One must bear in mind that these are American stories and so may not accurately describe the South African situation.
An ex-abortionist also speaks of how abortion clinics are run as businesses with financial targets that must be met. This doctor gives a whole new picture of the clinics that say their aim is to help women. Alveda King, the niece of Dr Martin Luther King shares her testimony as a victim of the abortion issue.
There are many bonus features including beautiful adoption stories but also the shocking truth about late term abortion and the history of Planned Parenthood.
As a director of a pregnancy crisis centre helping women in crisis I would not say that this film is appropriate for showing to the majority of crisis clients that we see. A woman in crisis needs unconditional acceptance above all else and showing such a DVD may feel judgmental to her. However, I do think it is an excellent resource for counsellors to watch as well as the general public so that we can all understand the issues that are facing those who have made this choice. We must be aware that if hundreds of thousands of abortions have been done in our country then there are hundreds and thousands of women who, just like the women on this DVD, are living 'Life after Abortion'.
The DVD can be purchased from Brettian Productions . You can view the trailer below.
httpv://www.youtube.com/watch?v=52wOfP5TONk