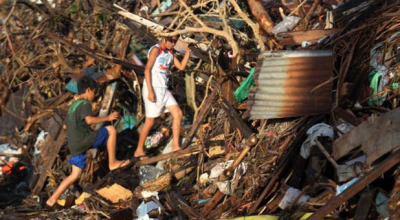 Originally published in Charisma News
Families in the Philippines are facing the task of finding each other. The typhoon there has separated loved ones from each other across the country.
As some begin to lose hope they'll find their family members alive, many are relying on another hope to get them through the devastation.
Two women searched for days to find their mother. Exhausted from the search, they discovered her body in the street. They grieved for only a few minutes then walked away.
Thousands more are still looking for missing loved ones. Most people have realized that more than material possessions, the most important thing is family, being alive, and having that new hope in God.
The Pinpin family is grieving over the loss of four loved ones. Jessica's father and cousin died in the storm, but she still holds out hope that her mother and 3-year-old niece will be found.
"I have not seen their bodies and so I am hoping that they are still alive," she said.
Jessica said she draws strength from her faith in Jesus Christ. She remembers how she felt God's presence when she came to Christ while watching The 700 Club-Asia.
"I received Jesus as my Lord and Savior through The 700 Club, Nov. 9, 2005 at 2 a.m. I was full of rejection," she recalled.
"The host said, 'If you have tried everything, try Jesus. He will never reject you. Whatever you need, just tell it to Him," Jessica said. "I experienced the presence of God that time and He met my need."
Jessica hopes that even as her parents faced the moment of death, they called upon the saving name of Jesus.
"I shared the gospel to my father and so I'm hoping that he called the name of Jesus during that time. And also to my mama, I hope they really called the Lord," she said.
Many of Jessica's family members prayed to receive Christ through the ministry of CBN. The CBN News team also prayed for healing for Jessica's cousin Aljon's injured leg and made sure he was put on a C-130 to receive care in a hospital in another city.
Since all of Tacloban's hospitals have been destroyed, many patients are helplessly waiting to be transferred. In response, CBN Disaster Relief teams have set up medical missions in different parts of city, bringing care to people in need.