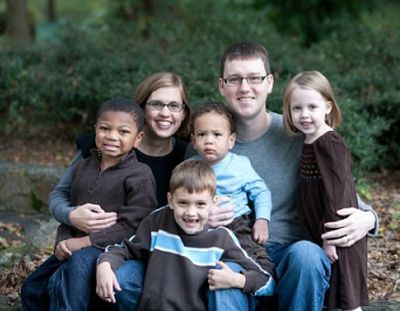 Originally published in CBN News
In 2010, Erik Hansen decided to give up a lucrative medical career in America to pursue a dream of serving the less fortunate.
He packed up his bags and moved his wife and four children 8 000 miles from his home in south Texas to a remote part of Africa where he now serves as a Christian missionary doctor.
Dr Hansen didn't speak Swahili before he moved to Kenya.
In fact, he and his family never planned on living on the African continent at all.
"My wife actually asked me while we were dating if I was going to be a long-term cross cultural missionary, and I said 'No,' and that was the right answer," Hansen told CBN News. "So it was a little bit of a bait and switch. What brought us here seven years ago, really, was God changing our heart."
The Hansens moved from Texas to Kenya specifically to work at Kijabe Hospital, which lies one hour outside the capital city of Nairobi.
"Most people would think equatorial Africa would be hot desert, but we live at 7 200 feet," Hansen described. "We live on an escarpment overlooking the Great Rift Valley."
Kijabe is a Maasai word which means "Place of the Wind."
"The temperature here is mild and we don't have air conditioning or heating," said Hansen. "It's beautiful most of the year. We have monkeys in our yard that steal food off of our table outdoors."
Hansen is the lead paediatric surgeon at Kijabe. By definition, he's a missionary doctor, but the definition is changing.
The changing model of the missionary doctor
"The model of the past where hospitals were staffed almost exclusively by expatriate missionaries is maybe relevant in some places, but increasingly is not the best model," Hansen admitted. "And as we train, as the Kenyan staff here at Kijabe grows, half the physicians are African."
"We're here to build capacity, to work alongside people," added Hansen. "If that means that in 10, 15, or 20 years I'm not needed, that's fantastic, but if I am that's fine, too," he added.
Hansen is both a surgeon, and a teacher.
"We are currently training 10 surgeons from nine different countries in sub-Saharan Africa."
To better appreciate the services provided by these Christian hospitals, you just need to look at the numbers.
For example in Kenya, 40% of the medical services are actually provided by these Christian hospitals.
If he was simply a surgeon, Hansen could perhaps treat hundreds of children each year. But as a teacher, the reach is far greater.
Training others to have an impact for the kingdom
"Training these people who will go out and train others is an enormous impact," said Hansen. "We're talking about tens of thousands of children. That's more than I could ever do in a lifetime and I think kingdom work is not limited just to somebody who wears a cross around their neck."
"People who are loving others as Jesus loved, 'You will know them by their fruit, and you'll know them by their love.' So I think it's a great testimony to the love of Christ."
Like so many other medical missionary hospitals on the African continent, Kijabe focuses on training the next generation of young men and women who will be the foundation of the medical field in their countries.
But in addition to meeting the physical needs of people, they will also have the chance to meet the spiritual needs of their countrymen.
It's a sentiment shared by many at the hospital, including chief surgeon Dr Peter Bird.
Fulfilling the Great Commission and the Great Commandment
"There is really two arms to all Christian ministry," said Bird. "The Great Commission, and the Great Commandment. The Great Commandment is to love God and love your neighbour. And the Great Commission is to get out and tell all people about Christ."
Dr Hansen says physical care and spiritual care go hand in hand at Kijabe.
"Every opportunity we get to care for someone, to teach someone who will care for others, to love on a mom, to love on a family, is an opportunity to be love," remarked Hansen.
"It's a team approach," added Bird. "The Bible talks about this. Paul talks about it, about the Body of Christ."
Hansen and his team say the focus has to be on equipping a new generation of African medical professionals who will eventually have the necessary skill set to care for their fellow countrymen.
"That is so fundamental to what we do and why we're here," Hansen told CBN News.
"I might be very good at taking an appendix out, but someone like the hospital chaplain or [other pastors who work at this facility] are really good about sharing the Gospel and that's critical," said Bird. "You can't just be populating Hell with all these people with excellent hernia repairs; you've got to actually be doing more than that."
Twice each day, doctors, staff, and patients have the opportunity to attend services at the campus chapel. Still, the challenges can be great. It takes a lot of money to run a hospital.
Healthcare costs and challenges
Healthcare costs come out of pocket for most Kenyans. Average annual income is about $1 300 per person. A simple round of cancer treatments costs $3 000.
"You're asking them to find twice their annual income," said Bird. "It is like asking someone in the USA to think about their gross income, multiply it by two, and come to the hospital in cash and that's how we can treat you. That is extremely difficult."
Despite the challenges, "we wouldn't trade this life for anything."
And there are everyday life challenges living abroad.
"There are days I think I could pack up and we could lead a different life somewhere, but ultimately we wouldn't trade this life for anything," said Amanda, wife of Dr Hansen. "Big picture, we're happy here, we have a sense a purpose, a sense of calling, and we like that."
"I think the challenges that we have here ultimately pale in comparison to the opportunities that we have," added Hansen.
Paediatric surgeons are the jewellers of the medical profession. Their fingers are nimble, and the work delicate.
"It's a privilege to be able to operate on anybody, much less these kids, and so from a surgeon's standpoint it's a cool case, from the patient's standpoint we hope we can help the child and the family, and from a training standpoint it's key," Hansen told CBN News as he prepared to operate on a 3-day-old baby girl.
Sacrifice for a higher calling
Hansen and Bird could easily make six figures in their home countries.
"Where I come from, Australia, there are many surgeons," said Bird. "They don't need another surgeon there."
Instead, they have chosen a different life, a different calling, with its own unique rewards.
"Living here we feel like we've hit the lottery," exclaimed Hansen. "We are privileged to be able to live and work here."
"And so really it's about obedience, it's about love, hopefully a response in love, and loving other people, that are my trainees, but also my colleagues, and also my patients," added Hansen.
CBN-Gerson partnership
The Christian Broadcasting Network is partnering with Jewish entrepreneurs and philanthropists Erica and Mark Gerson to help missionary doctors like Erik Hansen save countless lives across Africa.
Gerson's work, through the African Mission Healthcare Foundation, which he co-founded with Jon Fielder, an American medical missionary doctor serving in Kenya, has been featured on CBN News.
The goal of the partnership is to provide a matching grant for up to $1 million that CBN raises for Christian medical missionaries and mission teaching hospitals in Africa.
"You can help the lame to walk, help the blind to see, give hope to a desperate parent and help raise up a new generation of medical staff," according to the partnership's website.
The site says, "100% of your gift goes to the field to cover medical care where it is needed most."
"It's an honour and a privilege to partner with these medical missionary heroes," said Gordon Robertson, CBN CEO. "These courageous souls have sacrificed comfort and career to move their families to some of the most remote places in the world to serve the overlooked. They believe human life matters, and every life is worth saving."
The CBN-Gerson partnership will enable eight medical missionaries and their teaching hospitals to utilise the funds to build infrastructure, treat patients, and train the next generation of qualified African healthcare providers.
"No one displays extravagant love like these Christian medical missionaries who are willing to lay down their life and their careers to serve the overlooked and left behind," remarked Erica and Mark Gerson on the campaign's website.
Hansen says the funds will go towards training two paediatric surgeons at Kijabe hospital, making possible at least 20 000 surgeries.
"That's more than I can ever do in a lifetime," exclaimed Hansen. "What an opportunity that the Gerson's and the Christian Broadcasting Network have provided to even dream about ways that we can push the envelope, to make a difference greater than we already have."
"People who are loving others the way Jesus loved and you'll know them by their fruit and you'll know them by their love. This opportunity for the Gerson's and CBN to work together is a model for others; I think it is a great testimony to the love of Christ," added Hansen.