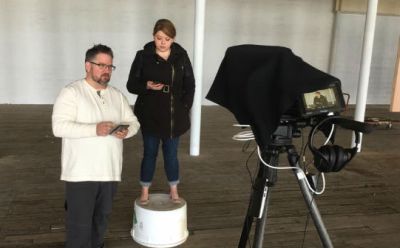 Originally published in Charisma News.
For 10 years, Darren Wilson has traveled the globe in an attempt to film God. He has created five wildly popular feature films, and in the process amassed thousands of hours of footage of God's supernatural power and love on display in real world situations. He considers his newest endeavor to be the next logical step in his personal journey from skeptic to true believer.
He has stepped out of the big screen and into a smaller one, with a brand-new television series.
Adventures With God, Wilson's new 30-minute weekly show, is unlike anything that's come before it and is Wilson's attempt to raise the bar for Christian television. "Most of what I see on Christian TV is kind of par for the course and not super innovative—it's a lot of preaching, a lot of teaching and not a lot of entertainment," Wilson says. "I wanted to make a show that not only dealt with big faith issues, but was also a lot of fun to watch."
To do this, Wilson mixed his extensive archives with new adventures never seen by his audience before. As Wilson explains the concept, "Each episode centers on a question, like 'What role does desperation play in God moving on your behalf?' or 'Why is faith so difficult?'
We then built the episode around that question, sometimes using adventures from my past films, and other times using brand-new adventures we've filmed recently. Everything moves at a brisk pace between adventure, behind-the-scene footage and roundtable discussions, so you're completely sucked into wrestling with this question in as entertaining a way as possible."
As to why he made the jump into television, Wilson explains, "My movies are kind of episodic in nature anyway, with smaller adventures making up a massive whole, so breaking them down into smaller shows didn't seem too daunting. The big test for me was to be able to make something that even our most ardent fans, the ones who have watched every second of every Deluxe Edition, would still be able to get something out of. I didn't want to just go the easy route as an artist and make a greatest hits package. I wanted to do something fresh, unique and really add to what we've captured in a way that makes it feel like you're watching something totally new."
Indeed, the first season of Adventures With God is loaded with never-before-seen footage, including five of the 20 episodes being all new adventures Wilson was able to film during his epic two-film journey making Holy Ghost and Holy Ghost Reborn. He was able to film so much for those films that some truly wonderful God moments simply couldn't find their way into the narrative of the two films, but thankfully a 30-minute TV show provides a way to show them to the world.
To wrestle even more with the questions behind each episode, Wilson filmed intimate roundtable discussions with various evangelists, pastors and celebrities, which help undergird each episode and give the adventures in the show new meaning.
"The idea for the roundtable was to have an honest, vulnerable discussion about some of the things most Christians struggle with. My only rule for every participant was that they had to leave their "ministry brand" at the door and be open and honest, even if that meant admitting that they don't know or struggle with something. What we got from that is truly amazing."
Indeed, the roundtables proved to be so good, Wilson is currently creating a spin-off show called Questions With God, which he says will allow the viewer to delve even deeper into the questions being raised in each episode. "It's similar to the Walking Dead/Talking Dead model, where you watch an episode, then immediately after that you go into a deep discussion of what you just saw. Put together, it should make for a very interesting hour of television."
Adventures With God is set to premiere on a variety of Christian networks, including TBN, beginning in 2017, but is currently available in its entirety at wpfilms.com. Wilson has two full seasons planned for both Adventures With God and Questions With God but is reluctant to commit to more after that. "I love this new medium and exploring these adventures in this new way, but at the end of the day, I'm a filmmaker, and I've got more movies to make, so we'll see how my time pans out moving forward."