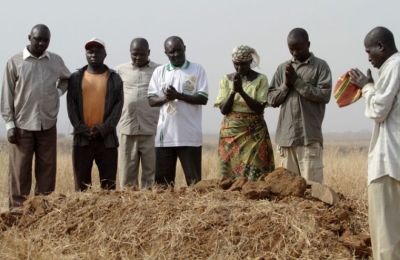 Originally published in Christian Today
Islamic Fulani herdsmen have reportedly killed at least 28 people, including Christian women and children, in a raid on a village in Plateau State, Nigeria.
Persecution watchdog International Christian Concern reported on the recent attack on Tuesday, explaining that the violent raids by the Fulani on Christian villages are escalating as the terrorists migrate further south.
The Rev Andrew Okebe, the Zonal Coordinator of Christian Association of Nigeria, Miango District, explained what happened during the attack:
"The soldiers had told the women and children to go and hide in the primary (elementary) school class at night while the men in the village constituted a vigilante group and join[ed] the soldiers in patrolling the area. Sadly, the militia descended and the soldiers fled, leaving the defenseless villagers to be massacred by the terrorists."
Nigerian military has reportedly been unable to stop the continued assault by the Fulani on villages. Civilians have been left defenseless in the face of Islamic jihadists who want to occupy their land, Okebe said.
There have been more than 30 attacks on Christian villages alone in 2017, with the herdsmen slaughtering over 250 people and burning down hundreds of homes.
"We pray for those who are suffering the pain of loss. This unbelievable act of violence is becoming all too common for Christian villages in Nigeria's Middle Belt region," said ICC Regional Manager for Africa Nathan Johnson.
"The government of Nigeria must not only condemn the violence, but take the necessary steps to ensure that the perpetrators are punished and unable to commit these acts again. Until then, Christian villagers in the Middle Belt will be left to wonder if their community will be next."
Meanwhile in Nigeria's southern Delta state, four British missionaries have been kidnapped, police revealed on Wednesday.
The four Christians had been working to give out free medical supplies in a remote part of the country when they were taken by gunmen on October 13, a spokesman for Delta state police said.
'The abductors have not made any contact but we are doing our investigations to know the motive and have them rescued without jeopardising their lives,' said Andrew Aniamaka.
'Information available to us shows they are missionaries giving free medical services,' he said, adding that the British nationals had been working in a very rural area.
Kidnapping for ransom is a common problem in parts of Nigeria. A number of foreigners have, in the last few years, been kidnapped in the Niger Delta region, which holds most of the country's crude oil – the country's economic mainstay.