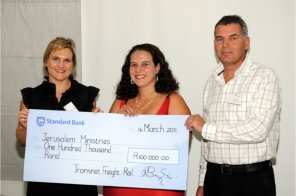 The shocking pass rate at township schools and a desire to be like "real parents" to orphans and vulnerable children from Walmer Township (Gbera) were enough to persuade Jerusalem Ministries to start a school this year by faith.
"So determined were we, that we started our Grade 1 without a classroom," said Jerusalem Ministries Project Director, Di Darlow, at a recent function at which Transnet Freight Rail donated R100 000 towards building classrooms for the new school at the Human Dignity Centre (HDC) on the outskirts of Walmer Township, Port Elizabeth.
Through the HDC, Jerusalem Ministries was already running an educational centre for some 78 pre-school to Grade R learners, as well as offering afternoon sport and aftercare, and two full meals per day for all of the children.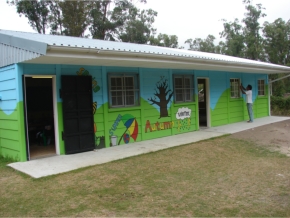 "We moved all the classes around to suit their sizes leaving our toddlers class in a storeroom! " said Darlow in an interview today, explaining how they accommodated the Grade 1 class without having a classroom in place. "That was January.  Since then, visionary funders have seen the impact that such a school can have on the life of the township and this has resulted in our new classroom being almost ready to move into.
"Transnet paid for more than three quarters of the price of the building.  We are deeply grateful to them for this.  What's more, they arranged a banquet for dignitaries and blessed the children with a packet crammed full of exciting goodies.  Terra des Hommes and past BeMore volunteers have stepped up to the mark and are helping us with the deficit of the actual building, and present BeMore volunteers are paying for the tiling cement and some of the burglar proofing costs.   HandsOn has offered to try to raise funding towards some of the paint and they and others have promised to help with decorating.   All that remains for us to find is the funding for the painting and a concrete gulley to lead water away from the walkway.  Isn't that amazing!
"Our word to you all – step out in faith – where God leads He provides."
Jerusalem Ministries, which also runs adult lifeskills and training courses at the HDC, plans to expand the fledgling new school by building one new classroom a year to cater for the ongoing needs of the present children. Teachers and staff at the HDC educational facilities are hand-picked and dedicated. Children are taught in English but all instruction is re-inforced in Xhosa. The language strategy is to ensure mother tongue proficiency while ensuring future employability by promoting fluency in English.