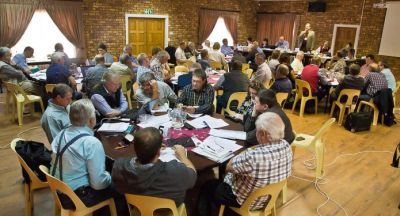 Oorspronklik in Kerkbode gepubliseer
Die buitengewone Algemene Sinode van die NG Kerk wat weer sal besin oor verhoudinge tussen mense van dieselfde geslag, gaan van 7 tot 10 November vergader. Die sinode word gehou in die kerkgebou van Pierre van Ryneveld waar die Oostelike Sinode ook van 23 tot 26 Oktober vergader.
Die sinode gaan die besluite van die Algemene Sinode van 2015 op sy agenda hê.
Dit sluit in dat die kerk burgerlike verbintenisse tussen gay mense erken; dat predikante van die kerk wat dit wil doen, toegelaat word om gay verbintenisse te bevestig; en dat gay mense in sulke verhoudinge predikante van die kerk mag wees.
Dit sluit ook in dat gemeentes, ringe en sinodes hulle eie standpunte oor die saak mag formuleer.
Diegene wat teen die besluite geappelleer het, gaan gevra word om hulle appèlle te herformuleer as beswaarskrifte sodat dit in dié vorm tydens die buitengewone Algemene Sinode gehanteer kan word.
Die agtergrond daarvan is dat daar regsopinies is wat meen appèlle teen besluite van die Algemene Sinode is nie moontlik is nie.
Omdat dit net regsmenings is en daar ook ander regsmenings is, sou appellante kon besluit om hulle besware steeds as appèlle te laat dien. Dan sal 'n appèlkommissie dit voor die sinode hanteer en afhandel. 'n Verslag van die appèlkommissie sal dan voor die sinode dien. Die gedagte is dat die buitengewone sinode nie self appèlle hanteer nie.
Daarby is daar geleentheid tot 30 September om beswaarskrifte of ander voorleggings by die skriba van die Algemene Sinode in te dien. Enige lidmaat of vergadering van die kerk sou dit kon doen.
Streeksinodes wat in Oktober of begin November vergader, kry geleentheid tot 4 November om beskrywingspunte of beswaarskrifte in te dien.
Die sinode sal al hierdie sake oorweeg en daaroor besluit. Die hoop is dat die NG Kerk daardeur, op 'n kerklike wyse, die saak kan hanteer sonder dat enigiemand in die kerk hom of haar op 'n burgerlike hof hoef te beroep.
Die buitengewone Algemene Sinode sal ook besluit wanneer die Algemene Sinode weer vergader. Die Algemene Sinode se volgende gewone vergadering is geskeduleer vir Oktober 2017, maar dit sal moontlik uitgestel word.