The 2017 Global Leadership Summit (GLS) kicks off in Johannesburg tomorrow in the first of a series of two-day leadership training events that is expected to be attended by 13 000 leaders in South Africa over the next month.
There will be 21 events in 18 cities and towns, starting at Mosiek Teatro, Roodepoort, on October 6 and 7 and ending at  Taberna Dei Church, Kimberley on November 11 and 12. In addition to the major centres, smaller towns like Knysna and Graaff-Reinet will be hosting GLS event.
The annual summit was founded 22 years ago out of a vision in the heart of Bill Hybels senior leader of Willow Creek Community Church in Chicago USA to bring the best of leadership training to the local church. It has just kept on growing — consistently inspiring church, ministry, business and organisation leaders — and this year is reaching 1 375 venues in 128 countries.
Click on banner to register
'This year's Summit teaches about civility and respect, building resilience, assembling a team, increasing your creativity and uniqueness, strategic pauses, reinventing performance management and last but not least fearless leadership," says Janine Couchman of Willow Creek South Africa.
Attendees will view on-screen messages by business, justice and Christian leaders including a senior executive of Facebook and and adviser to Google, top business and business creativity consultants, international campaigners for the poor and victims of violence and slavery, leaders of influential churches, and from Africa — a survivor of the Rwandan genocide and leading author and speaker on faith, hope and forgiveness.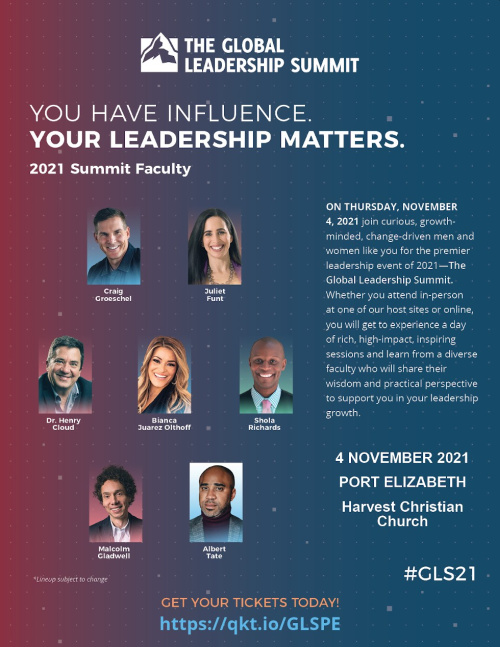 Practical leadership
A hallmark of the GLS has been its ability to deliver a unique blend of vision, inspiration and practical skills that attendees can immediately apply.
The comments below by past attendees confirm the impact of the GLS.
"When I compare the summit to all the other leadership opportunities available to me, the summit is the best. It is the best in terms of the quality, the experience and the people you get to meet." — Mitch Barns, CEO Nielsen
The GLS inspires me to lead with a purpose bigger than myself. It is truly the highlight of my summer. We bring leaders from our organisation each year, and it is a true gift to our organisation to be able to offer world class leadership training at a reasonable price." — Megan Tamte co-founcer and co-CEO Enereve
You can find out more about the summit, locations near you, and register here: http://www.willowcreeksa.co.za/gls-2017/ Group discount rates are available for teams of 10 or more people.