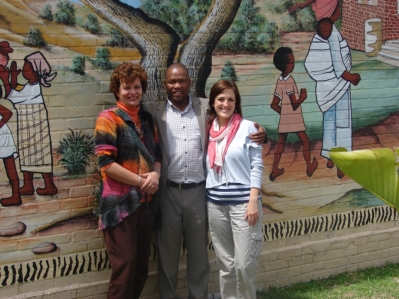 A Christian mission in Port Elizabeth and an ex convict with a heart for helping former prisoners, are joining hands to establish a halfway house for young offenders on parole.
The halfway house would alleviate a problem faced by the Department of Correctional Services which could not release certain people who were eligible for parole because they did not have a fixed address, said Dr Trudi Basson, general manager of Maranatha Streetwork Trust, which specialises in helping street children and other homeless people.
She said 12  young men, between the ages of 18 and 24 would be accommodated in the halfway house which would be established in a house in Sydenham that belonged to Maranatha. The goal of the project was to help former prisoners to become responsible citizens and disciples of Jesus.
The instigator of the project, Siyanda Mtuli, 34, was released from St Albans Prison in 2007, after completing 13 years of an 18 years sentence for armed robbery. During his time in prison he saw many prisoners returning to jail "because it was difficult for them to find legal work". Soon after his release he established Inguqu Placement Agency, an enterprise that assists former prisoners with skills training and job placement, and conducts crime prevention campaigns.
After learning of the problem of prisoners who were stuck in jail because they had no fixed address on the outside, Mtuli approached Maranatha for help.
Basson said the project was in the planning phase. Currently they were recruiting a team to run the house, which should be opened early next year. The house would be known as Inguqu House (inguqu is a Xhosa word for "change").
Fundraising fête
Maranatha, with assistance from Klema, a church in Summerstrand, are hosting a fête on Saturday 29th October to raise funds towards the repayment of a loan they received to acquire the Sydenham house. The fête will be held from 9am to 1pm at the Maranatha Children's Home in Southdene (off Forest Hill Drive, behind the PE airport). In addition to the usual fête activities such as a white elephant sale, there will be a variety of delicious foodstuffs on sale, donkey and pony rides, and a luncheon for which tickets (@R45) can be bought by calling Anke Hefer at Klema at 041 583 6438 or emailing her at lewe@klema.co.za.