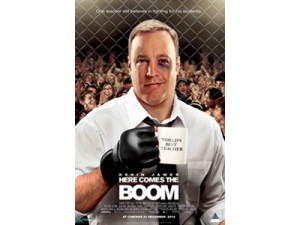 Comedy movie 'Here Comes The Boom' that is showing at cinemas around South Africa is not only hilarious but has a strong Christian flavour, says Humble Pie Entertainment.
The media company which specialises in distributing family and faith based movies sent Gateway News a review of the film by MovieGuide which says the movie is "a hilarious tale" with "a Christian worldview where the characters read scripture, pray and sacrifice themselves for others".
Released in SA on December 21, the 13MV-rated movie stars Kevin James, Salma Hayek and Henry Winkler. The plot revolves around an unmotivated teacher (Kevin James) who ends up sacrificing himself and becoming a Mixed Martial Arts fighter to save the music department.
"The movie will have audiences rooting, cheering, clapping for victory and at the same time laughing out loud and tearing up at the inspirational moments. It does have fighting due to the story line, so some caution is advised," writes Movie Guide.
View movie trailer: