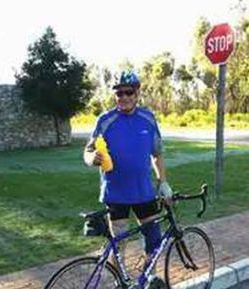 Introducing people to Jesus has become a normal part of the working life of Port Elizabeth banker and family man, Gary Quantoi.
"I develop relationships with people in the course of my work, and this creates opportunities, as the Lord leads, to minister," says Quantoi who has worked at a bank for 18 years.
Talking about how he began to evangelise at work, Quantoi, who met Jesus about 25 years ago, says: "Initially, I didn't know how the message [of the Gospel] would be received, but I realised that if I do it in my own strength, I would not succeed – people easily take an offense; but when I surrender myself to Him, to simply be His vessel, then there is no need to doubt. Mostly I find that the message in actually gladly received, which is a source of much joy and encouragement to me."
Recalling one of many opportunities he had had to minister in the marketplace, he says: "About 18 months ago I saw a client for the first time; we had only spoken telephonically, and arranged to meet at a neutral venue. That morning, whilst praying, I asked God to use me during the course of the day. When I arrived, I went directly to him [his client], not knowing that it was him, and asked him if it was him; his reaction was to ask how I knew to come directly to him, amongst a number of people in the area – I retorted that I was led by the Holy Spirit.
"I then introduced myself, and when we concluded our business, I felt led to pray with him, and he was quite obliging. I prayed generally, and then sensed the Lord asking me to introduce him to Him. I explained salvation to him, and invited him to pray the sinner's prayer. A powerful anointing then came on him.
"At our next meeting, I discovered that he'd been diagnosed with cancer, and had the opportunity to pray for him again. After that, we had only periodic telephonic contact. Two days ago, I awoke with him on my mind; I called him on his cellphone, and got no reply. I then called his wife, to find that he'd passed on over the weekend. I felt the Lord saying this is why He's able to use me; to reach people who need salvation."
Quantoi has some advice for people who want to be used by God at work: "Do not do it in your own strength, but avail yourself wholeheartedly to the Lord, and allow him to lead you. Be aware of windows of opportunity to minister – be on the lookout for opportunities! A casual conversation about weekend activities, may highlight a particular need which can lead to asking pertinent questions."
And his parting word of advice? — "Evangelism without prayer is like shooting an arrow into the dark; you won't get very far."