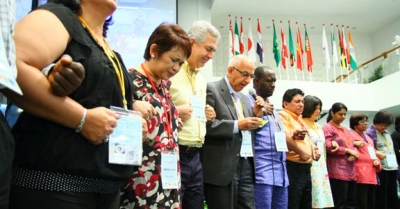 Nearly 85 per cent of people who make a decision for Christ do so between the ages of 4 to 14. And the 2.3 billion children on earth under the age of 15 represent the largest unreached people group in the world.
These are some of the reasons why South African-based Global Day of Prayer, in its latest newsletter, calls on intercessors to participate in two international "4/14 window" prayer and worship initiatives on Saturday April 14.
The 4/14 Window Initiative is "to raise-up a new generation from the 4/14 Window (i.e. children between the ages of 4 and 14) to transform the world for Christ."
Global Day or Prayer International Coordinator Isebel Spannenberg urges intercessors to participate in the Global 4/14 Day – a day of prayer and fasting for children aged from 4 to 14 on Saturday, April 14. She says they can register on the Global 4/14 Day website and a prayer guide will be available here from April 1.
While adults are participating in the Global 4/14 Day the Arise movement is inviting children around the world to gather for prayer in every time zone of the world at 4:14pm (local time) on April 14 to unite in praise and worship, stand in the gap for their generation and to commit themselves to be a generation set apart for God, says the newsletter. It says more information is available at the website www.kidsarise.com or by contacting Gwen De Rozario at wen@kisdarise.com
Spannenburg encourages Global Day of Prayer partners to include children in all aspects of the planning and preparations for the next Global Day of Prayer event on May 27. She says they can download a Children's prayer guide here.
Motivating the active participation of children she referred to Biblical precedents of children being present when Christ followers gathered in prayer. She also referred to current international initiatives such as Children's Prayer Network and Royal Kids Prayer Ministry in India which were raising thousands of children intercessors and worshipers.