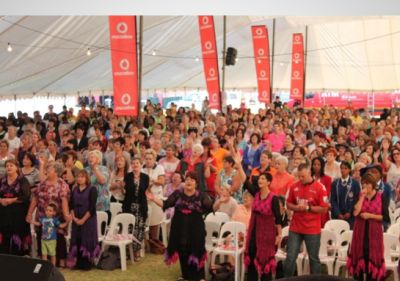 The Radio Veritas Women's World Day of Prayer which will be taking place on March 5, 2016 at the Cathedral of Christ the King in Johannesburg promises to be a powerful force against the ills that burden Africa.
The suffering in many countries on our continent are a clear indicator of the lack of unity among the people of God. "Africa and the world is in dire need of prayer for peace and tolerance, there is no better time than this, to get together and ask for God to intervene", said Mrs Mahadi Buthelezi of the Catholic radio station.
Let us join with Pope Francis when he asks us to respond to one another in a way that is always humane, just and fraternal, says a press release promoting the event.
The release continues: This year we will also be praying for the Republic of Cuba. Women from all cultures, backgrounds and denominations are invited to the Radio Veritas International Women's World Day of Prayer which will be taking place on the 5th of March 2016 under the theme: "Receive Children, receive me". No matter which denomination you subscribe to, we would love to pray with you!
More information is available from Mahadi Buthelezi at 011 663 4700.