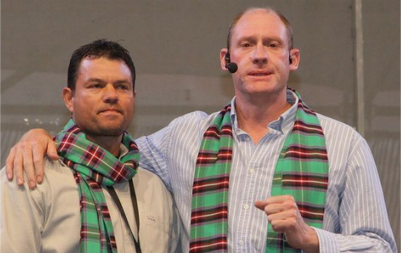 Evangelist and Mighty Men speaker Johnny Louw, together with his mentor and friend, Jacques Malan, aim to set hearts ablaze for Jesus during a five day visit to Port Elizabeth hosted by Human Hearts Foundation.
The pair, who are known for their strong, Word-based teaching and impartation of the truth of the Gospel, will present a series called 'Christ's Blueprint' at Storehouse Church, 36 Vitry Avenue, Lorraine, from Wednesday, August 6 to Sunday, August 10. The sessions will run from 18h00 to 21h00 and the cost is R100 per person for the whole series. Tea and coffee is included. Parents attending are welcome to bring their children –- a programme will be provided for primary school children. Online bookings for the teaching can be made on www.humanhearts.co.za. More information is available from Lee-Ann Viljoen on 083 444 1618 and kraggakamma@telkomsa.net or Jacqueline Whittle on 083 422 9936 and jacqueline@crgscs.co.za.
On Thursday, August 7, Louw will be the speaker at a Business Breakfast in the President's Suite at St Georges Park from 07h00 -10h00. Tickets are R100 per person or R900 for a table of 10. More information about the brekfast is available from Leslie Scanlen on 083 4172417.
On Saturday, August 9, Joe Schoeman of In Christ Ministries and Lance Walton of Karoo Mighty Men will host a couples' breakfast at the new Buzz Factory Restaurant at the Sunridge Village Shopping Centre, where Louw will be the speaker. The cost of the breakfast is R40.00 per person. All are welcome. For more information or to make a booking, inquiries can be made to Joe Schoeman on 082 577 7726 and info@meninchristpe.co.za or Lance Walton on 083 439 2905 and walton@aerosat.co.za .
The "Biltong en Kuier Aand" on Saturday evening will take the form of a panel discussion. We can only say that there are a couple of surprises planned for this evening, say the organisers. Bring along your picnic basket and some friends for an evening of hearty fellowship. More information is available from Annerie on 083 954 9392 or Francois on 083 561 0038.
On Sunday morning, August 10, Louw will lead an inter-denominationional service at the NG Kerk, Sondagsrivier-Suid, in Addo. Everyone in the Sundays River Valley from Kirkwood, to Sunland and Addo are invited to attend the service at 09H30.
Louw will end off the inspiring week of teaching and fellowship with a message at the evening service at Storehouse Church on Sunday, August 10 at 18h00.