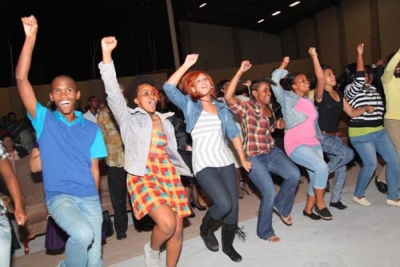 The Victory Ministries International (VMI) family of churches in Port Elizabeth celebrated a joyous time this week as they held their annual , high-powered, 4-day Restoration conference in their grand new auditorium for the first time.
The Restoration event, which VMI enthusiastically describes as more of a "breakthrough" time than a conference, has been an annual (sometimes twice-a-year) fixture of the church since it began in PE in 2000 in a large tent on the site of the new 2 850 seat auditorium. In recent years, Restoration has been held in Centenary Hall in the township of New Brighton, which is the regular meeting place of one of the five VMI churches in PE.
Addressing the enthusiastic crowd on the final night of Restoration 2012 last night, VMI founder, Pastor Jerome Liberty said that in the natural, it should take until 2023 for the church to complete the construction of the new auditorium at a cost of tens of millions of rands. But thanks to divine favour based on consistent faithful "sowing" they were enjoying the facility now. In fact the building, on a major PE intersection, is not quite complete. The official launch of the new VMI auditorium is scheduled for October by which time the final stages — front facing glass, a gallery, chairs and carpeting — will be complete.
But according to Francois Masuabi, a VMI member and scribe: "One can tell from the way that the people are receiving it (i.e. The new auditorium) that it's a major change from being within Centenary, everyone has a new face imprinted upon them that states their obvious joy as well as relief in some sorts that they actually have a building that they can call there own. This building belongs to them in all aspects for they contributed in the build, with funding by faith and hard work, labour with their own hands. Many of the people that came out to assist with the building prep often stated that there is so much joy in actually being able to be a part of something as big as this."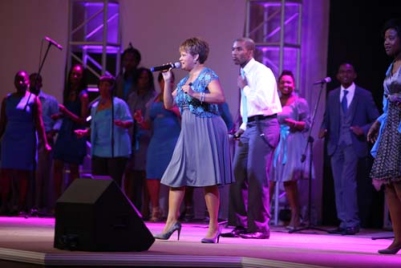 The keynote speakers at Restoration 2012 were US church leaders, Bishop Harry Jackson of Hope Christian Church in Washington DC, and Dr Walter Henderson of the Berean Family Worship Center in  Milwaukee. They encouraged the VMI family with teachings on the importance of prophecy and the God of the impossible.
Throughout the Restoration gathering there were hallmark moments of impactful worship, drama, dance and excellent audiovisual presentation that reinforced VMI's mission of reaching out to communities that are ravaged by poverty, gangsterism and addiction with a message that "in Christ you are destined to be people of destiny and significance".