[notice] A monthly column in which Kwakanya Nazo shares stories, interviews and testimonies of young people from all walks of life who are radical for Jesus and live to see change and transformation in and around them.[/notice]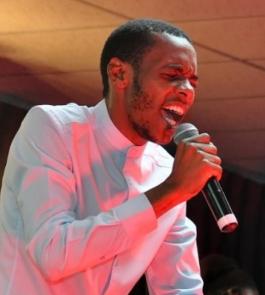 Khayalakhe, Mr. Worship Song, Skosana – singer, songwriter, vocal coach amongst many others — was born and bred in Sterkspruit in the Eastern Cape. Having being born into a closeknit family, he believes he was strategically placed there by God as a restorer and rebuilder. With a number of young people looking to public figures for inspiration, Mr. Worship song drew his inspiration from a human being in what he describes as his world – his late gran. Growing up, while other children played cars and dolls, Khayalakhe would spend much time in the kitchen bonding with his sisters and also learning how to cook and bake ; the biggest mistake one could ever make was to leave him alone in the kitchen (more often than not, it got quite messy) . His gran, however, believed that he would take the medical route and some of her final words to him were: "When you grow up, someday you will heal me." Khaya wanted to be a medical doctor in order to live up to his grandmother's words but unfortunately that could not happen. He says a part of him always knew he will sing but he never got any exposure or platforms to express himself until 2007 when he decided to relocate to Johannesburg.
Music career
When Khaya got to Johannesburg his father started a church and he didn't have a worship team.
"I was obviously the only one there who could sing and for the first time in my life I felt SO fulfilled" he said.
Like many other musicians, Khaya describes his journey so far as "challenging"– not based on anything other than the that he believes his passion is his assignment. To usher the body back to Christ, is what he believes he has been called to, Khayalakhe wholeheartedly believes his assignment is to assist in the generation that writes fresh and new songs — sounds that will indeed bring the glory back to Christ.
Mr Skosana confidently believes there is a wave of God's glory that is coming and God spoke to him about it years ago and "it will come through the music industry". Khaya believes God is yet to restore dignity and honor back into Worship and that He will use men like himself alongside many others to usher in this glory.
As part of his assignment, Khaya has a heart for healing and restoration. He believes that the body of Christ should expect the miraculous, where the blind get sight and the lame can walk. Like Elijah and Elisha, part of what Khaya is set to do in this generation is to raise worship ministers who are bigger and better than himself.
Asked what grace is and what it means to him personally, Khaya said: "Grace to me does not mean 'Go and sin, you will be forgiven'. Simply put, it means we have been forgiven and God knows we will sin but He loves us SO much that He believes we will sin no more."
"Grace is an empowerment to live righteously; it is not a license to sin. It fuels you to align with the nature of Christ."
You can connect with Khayalakhe Skosana via the following platforms:
Khayalakhe Skosana – Facebook, YouTube and Instagram
Days of Glory – Facebook page
Email: info@dayofgloryunleashed.co.za