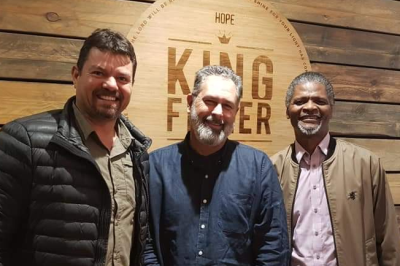 The first leg of a national road trip to find Kingdom solutions to South Africa's many challenges has left Mkhangeli Matomela and Jacques Malan astounded by what God has already initiated in different communities.
Starting in Cape Town on July 20, the pair visited nine cities and towns in eight days and discovered that the Holy Spirit had already prepared many people to participate in the Lord's plans for restoring SA.
They will embark on the next phase of their road trip with a meeting in Durban on August 27, followed by events in Bethlehem, Kimberley, Bloemfontein, Carltonville, Potchefstroom and the Greater Johannesburg area.
Commenting on their recent trip, Kingdom strategist Malan said their main purpose was to meet with city elders and believers across cultures, languages and denominations to promote "oneness", which he said was a deeper relationship than unity, and which was required for the Body of Christ to be the solution to the challenges facing the people of SA.
During visits to Vredendal, Upington, Middelburg, Tarkastad (an unplanned but highly successful meeting), East London, Port Elizabeth, George, and Oudtshoorn they briefed believers on a plan the Lord gave them over a period of months. Malan said every community was unique and their message was well-received everywhere and in their responses, people made valuable contributions towards further developing a plan for South Africa.
He said the trip had encouraged him and Kingdom governance specialist Matomela that the people of South Africa are hungry for a move of God that will make the country better for everybody in all spheres of society, both now and into the future.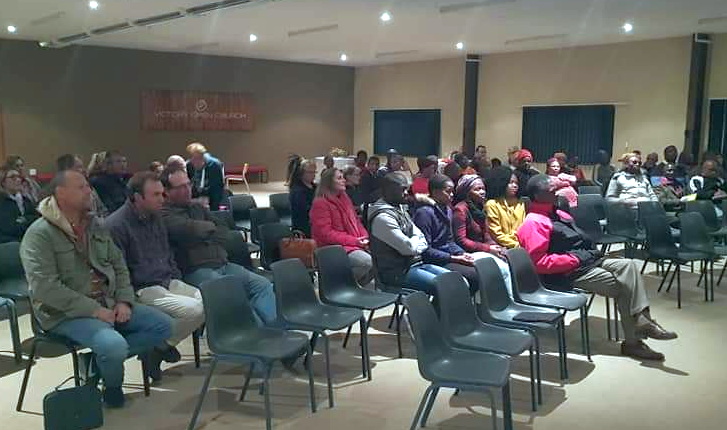 Explaining their vision for establishing and growing elders councils in each town and city, he said these would bring together leaders from every sphere of society to develop unique solutions for their communities.
He said: "The Lord has given us, His children, the mandate to look after our cities and towns, and we are going to pursue that with what we have in our hands, i.e. the riches and the wealth that exist within each one of our communities in the form of righteousness, effectiveness and the hearts of righteous community members, who are leaders in their own field of expertise."
He said he and Matomela were excited to learn about many longstanding community projects that were already successfully serving communities which they visited, and which could potentially be duplicated in other areas.
Malan also shared some testimonies from their trip. For instance, they met a man who wrote a book in obedience to the prompting of the Holy Spirit but had no plans to publish or distribute it until he attended their recent meeting in East London. There it became evident that the book titled Transforming of communities had been commissioned by the Lord for this season.
Tarkastad, where they made an impromptu visit at the request of a woman who read about their road trip in Gateway News, provided another testimony. After a packed meeting in the small town, a woman shared how she had studied law in obedience to the Holy Spirit. She had no idea what she was meant to do with her legal qualification until she attended that meeting. There she sensed that the Lord was calling her to assist in drafting legislation for a righteous government.
Malan said before they started on their trip the Holy Sprit had revealed to them that their stopover in Oudtshoorn was going to be different to their other visits. This proved accurate when they arrived in Oudtshoorn and found out that instead of the usual meeting, they were booked for a live, prime time radio interview on Heartbeat FM, hosted by the station manager, Christo Nel. He said they got to speak to about 60 000 listeners. Nel told them the Lord had called him to Oudtshoorn 20 years ago and had been preparing him for discussions around transforming communities.
Malan and Matomela's meeting dates for the next leg of their road trip are:
27, 28 Aug — Durban / Pietermaritzburg
29 Aug — Bethlehem
30 Aug — Bloemfontein
31 Aug — Kimberley
1 Sep — Potchefstroom /Carltonville
2 Sep — Jhb Wesrand
3 Sep — Jhb Oosrand
4 Sep — Secunda
"We are calling out the elders and leaders of communities in these towns and cities to come and engage with us and to contribute to the plan and play their part in forming Elders Councils and ultimately come into 'oneness' as the Body of Christ," said Malan. "We are no movement, no entity, just Kingdom of God – this is His business, and we are obedient servants."
He said they planned to call a national meeting of elders councils late this year or early next year, to be part of the solution of South Africa together.
For more information contact Jacques Malan at jacques@fathersvoice.co.za