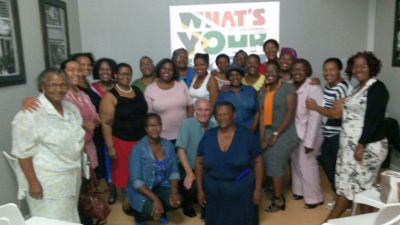 By Glenn Weiss
"What's your Story?" is ready to roll in Nelson Mandela Bay (PE, Uitenhage, Despatch) after more than 450 facilitators were exposed to training in the metro last week by the inspirational Heartlines presenters.
In total 14 training sessions and meetings were held throughout the metro from Monday March 13 to Saturday March 18.
Equipped
Facilitators have been equipped with the resource materials, skills and motivation needed to start this campaign in all spheres of the metro, from business, high schools, youth groups, churches and tertiary campuses.
Another highlight of the week was the training of over 20 people with the heart and the skills to train other trainers/facilitators to roll out this kingdom and nation building initiative.
Building relationships
"What's Your story" is a process to bring healing and reconciliation through personal storytelling. It has been shown that personal storytelling builds relationships leading to a significant reduction in prejudice and stereotyping which in turn breaks down racism and xenophobia.
Throughout the week it became clear that there are a number of other dynamics of society that could also be positively impacted through the building of a storytelling culture. Cross generational dialogues have been identified as an opportunity to foster greater understanding, tolerance and respect between the different generations. Language and cultural barriers could also be bridged through this process.
And let's not forget the movie, Beyond the River that launches nationwide on Friday April 28 in all major cinemas. This movie is a must-see for every South African. More information regarding block bookings for churches, school and businesses will be released soon.

To find out more about the "What's your story" initiative please visit the Heartlines website —http://whatsyourstory.online or contact Glenn Weiss in Port Elizabeth ( glenn@storehousechurch.co.za ) for information regarding the next facilitator training sessions or equipping and information sessions.