[notice] A monthly column in which Kwakanya Nazo shares stories, interviews and testimonies of young people from all walks of life who are radical for Jesus and live to see change and transformation in and around them.[/notice]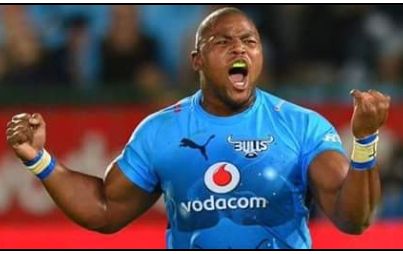 Lizo Gqoboka, 26 year old Blue Bulls rugby player, is one of the young and radical people I have had the opportunity to talk to and get to understand his journey with Christ. Unapologetic and free in his belief, the Bulls prop was more than delighted to sit in my corner and share with us answers to questions one would never hear on a daily basis.
Being the third and last child to his parents, Lizo – meaning Gift, was born on the 24th of March in 1990 in the rural areas of the Eastern Cape — "I celebrate my birthday because life in itself is a blessing; I celebrate the gift of life given to me."
Gqoboka grew up in a family orientated home where both parents were and still are a vital part of his life.
"My parents taught me respect and definitely the love of God and discipline; like any household there were ground rules that had to be adhered to." He says.
Lizo mentions that he didn't have many challenges that he can recall, while growing up, but his only concern was being enrolled in better schools and getting decent education. His pride and joy is the true epitome of a praying woman; Lizo's mother carried her family like a true warrior through her positive and courageous character. This, says Lizo, keeps him going every single day.
After a very interesting chat with the former Southern Kings player, below are answers to some of the questions he had to answer:
Favorite color
Blue
Favorite sport?
Rugby
Favorite scripture?
Hebrews 12:2
Favorite thing to do after a long day?
After a long day I enjoy good music while relaxing.
Ice cream or iron (weights) cheers you up, after a tough moment?
Definitely Ice cream, I am a prop – LOL
When did you get saved?
14 June 2009
Have you always desired to play rugby?
Not really, I actually had different desires to where I am now but the will of God always prevails.
How did it all start and when?
It started in 2009.There was a guy in my neighbourhood that was playing rugby and so I asked if I could join for practise and he said it was ok and from there the love for rugby grew
Highlights so far in your career?
Springboks call up and also playing Super Rugby.
Lowest moment you have ever had in your career?
My lowest moment would be an injury that kept me out for months.
What did your move from the Southern Kings to the Blue Bulls mean to you?
It meant growth; it is a privilege to be playing for one of the most successful unions in the country.
How do you think one brings God glory and honor through sport, specifically yours?
I, personally, bring glory to God by making sure that I give what I do my best. I try to excel in my work. I do not give half. I put in 110%, always. Also I make it my major priority to always bring the knowledge of Christ to those around me.
How do you balance God, work, social life?
God comes first and He sets the standard for every other area in my life.
If you could be left in the middle of nowhere, in a desert, what are the 3 most IMPORTANT things you would take with you?
Water, a compass and food.
If not rugby, what else would you be doing?
Definitely business.
What does grace mean to you?
Grace, to me, is unconditional love; the freedom of knowing that I do not have to work for it but receive it as a gift given freely by God.