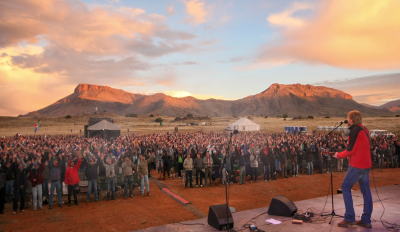 The Karoo will host three of South Africa's foremost worship musicians when Joe Niemand, Retief Burger and Dewald Gouws lead praise and worship during the Karoo Mighty Men Conference 2014 (KMMC 2014) from April 25 to 27.
All three know and love the Karoo. They agree it is an amazing privilege to minister at the Karoo Mighty Men's Conference.
Retief Burger says praise and worship prepares the ground at the Mighty Men conferences for the word to fall into responsive hearts by opening-up even the hardest of hearts, but in many ways it is also a way of bringing across truth.
"In Colossians 3:16 Paul says we must teach one another: 'in psalms and hymns and spiritual songs, singing with grace in your hearts to the Lord'.
"People definitely respond to the revelation of God through worship. It is a very important component of Mighty Men Conferences, therefore we want to prepare well, choose the right songs to serve people and help them connect with the Lord and to worship Him," says Burger.
As servants and children of God, Revelation 22: 9 tells us simply and explicitly: "Worship God" and 1 Peter 2: 9 informs us "You are a chosen people, a royal priesthood, a holy nation, a people belonging to God, that you may declare the praises of him who called you out of darkness into his wonderful light".
Andrew Murray, in his 365 Day Devotional, reminds us that: "Praise will always be a part of adoration. Adoration, when it has entered God's presence and has fellowshipped with Him, will always lead to the praise of His name".
The KMMC 2014 invites you to praise and worship the Lord in the vastness of the Karoo where His glory is so evident.
KMMC 2014 also invites all those attending the conference to bring shofars (trumpets) to blow together in recognition of God's glory for the call of KMMC 2014 is inspired from Joel 2:1 "Blow the trumpet for the day of the Lord is at hand"
Dewald Gouws' latest album "Stuur My", which includes a praise and worship DVD with lyrics for small groups, will be launched at KMMC 2014.
Gouws, who is an evangelist and gospel singer from the Bushveld Limpopo was recently signed by Sony Africa. In 2006 he and a few close friends attended the Mighty Men Conference at Greytown where he realized God's purpose for his life. His first cd "Verhaal van Glorie" is currently available at music stores countrywide.
Joe Niemand has been writing music since he was a teenager, growing up in the Eastern Cape.  He completed writing his first song at the age of  17.  He fronted the band Niemand, which saw him crossover from being a songwriter behind the scenes into a rock star.  The band's debut single "Words" was a huge hit, and spent months in the Top 40 of many charts.  They have had several number ones, and his album "Reborn" was nominated for the SAMA award.  Their second album "This Is War" produced further hits and also received a SAMA nomination. Last year Niemand took a bold move, and released his first solo album "Love: Scenes from Songs of Songs.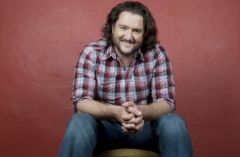 Having appeared at six Mighty Men Conferences, Niemand says it is a privilege ministering at the conferences: "I am grateful and find it incredible that the Lord has placed me there to serve and make music".