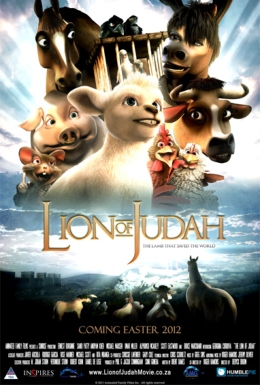 Movie Review by Andre Viljoen
LION OF JUDAH
Genre: Christian Animation
The Lion of Judah, a delightful South African-made full-length, animated movie that tells the greatest story ever told with humour and heart, has been released in South Africa in time for Easter.
I watched the movie on DVD last night and although it is aimed at kids I loved the creative and engaging way that the farm animals that were in the stable with baby Jesus crossed his path again in Jerusalem as he was welcomed as a king and then crucified as a criminal.
The animal plot revolves around the adventures of a bold lamb (Judah) and his stable friends who launch a daring campaign to try and rescue him from the sacrificial altar in the week before the crucifixion of Christ.
Through skilful animation and Brent Dawes' witty script, the Easter story is told as seen through the eyes of a lovable pig (Horace), a faint-hearted horse (Monty), a pedantic rat (Slink), a rambling rooster (Drake), a motherly cow (Esmay) and a downtrodden donkey (Jack).
Despite the barnyard perspective, the film succeeds in faithfully portraying Palm Sunday, Jesus overturning tables in  the temple, Peter's denials, the crucifixion and resurrection. Parents can rest assured that Christ's death on the cross is handled with sensitivity to children yet clearly conveying the magnificence of his great redeeming love. It also provides parents and teachers with great opportunities to discuss topics such as friendship, courage, faith, freedom and sacrifice with children.
For talented South African director, Deryck Broom, a past graduate of Media Village, Cape Town, Lion of Judah was not only his first full feature film but also his first experience of directing animation. Recalling the first time he read the script in 2007 he said there were tears in his eyes as he read the last page and he told his wife that if he was offered the chance to choose from all of the scripts in the world, he would choose that one.
The movie was made at the Character Matters Animation Studio in Cape Town South Africa. Voices were recorded in Hollywood, London, Cape Town and Mumbai. It features the voice talent of Scott Eastwood (Invictus, Gran Torino, Pride, Flags of Our Fathers), Michael Madsen (Donnie Brasco, Kill Bill, Vol. 1 & 2, Reservoir Dogs) and Ernest Borgnine (Red, The Wild Bunch, The Dirty Dozen, Marty, From Here to Eternity, TV's McHale's Navy).
The Lion of Judah movie is accompanied with a 21 track (10 songs, 11 underscores) ROARING Original Motion Picture Soundtrack featuring well-known artists such as: Kari Jobe, Klaus, Lindell Cooley, Eddie James, introducing Colby Osborn and more, including original underscores from Award-Winning Composer, Greg Sims. It is released by Animated Family Films headquartered in Coral Gables, Florida.
Lion of Judah is a wonderful family movie and also a great production for church, school, ministry or family outreach screenings. The DVD can be ordered here at a cost of R150. Church screening licences are also available at a cost of R350.
See the movie trailer below:
httpv://www.youtube.com/watch?v=KnRQnNRChdw