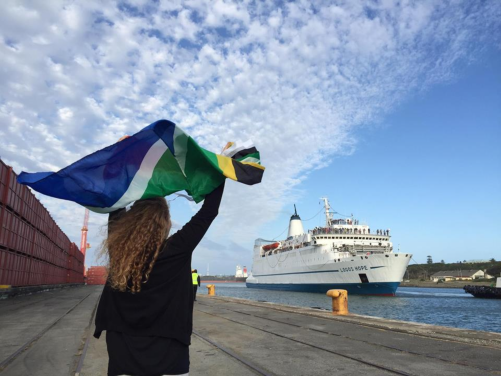 The Logos Hope arrived in a windy, freezing cold East London, at about  3pm yesterdayay — one hour earlier than expected, reports Caylee Good, Project Coordinator and a member of the Logos Hope advance party that has been in East London to prepare the way for the world's largest floating bookshop's 12 day stay in her third port of call in South Africa.
Despite the inclement conditions and early arrival there was a great turnout of local people to welcome the famous OM Ships vessel, she said.
Members of the international crew were standing on the outside decks waiting in anticipation for the promised marimba band and Xhosa dancers. And when the band and dancers arrived crew members danced with them from the decks as they performed.
For Caylee it was an exciting experience to watch the ship come into her home port. "What could be better than 400 missionaries arriving to bring knowledge, help and hope to your home port?" she said.
The ship will be open to the public until May 30 and can be reached via the port main entrance, East Bank. Visiting hours are: Sunday – Tuesday 1pm – 9pm; Wednesday – Saturday 10am – 9pm. The entrance fee is R5 per person; children under 12 years old enter for free, but must be accompanied by an adult. More information is available on the Facebook page https://www.facebook.com/events/220412718302378/
Visitors will have the opportunity to buy a wide variety of books at low prices and to experience interactive events and shows on board, including a theatrical presentation of The Lion, the Witch and the Wardrobe on Sunday, May 22 and 29,  and Around the World, a fun, family play on Saturday, May 21. Tickets for the events should be booked before the day of the performances and can be purchased on board, by calling 082 917 1394 or emailing logoshope.eastlondon@gbaships.org
The next ports of call will be Port Elizabeth, from June 9 to June 20 and Cape Town from June 24 to July 11.