In the wake of last week's terror attack in London, our UK correspondent Charles Gardner recalls another day in the city when Islamic terror struck his family.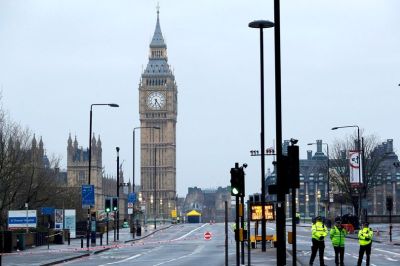 Last week's London terror attack brought back dark memories of the dreadful day that Islamic terrorism struck our family.
Now commonly remembered as the 7/7 bombings, it was the day — July 7 2005 — that my younger brother David took the tube (underground) train for his daily commuter journey to work as management accountant with the London Evening Standard, but never made it to his offices.
Instead, he endured an absolute nightmare from which he has still not fully recovered. He was sitting just three feet from Mohammed Siddique Khan, the key figure behind the plot which set off explosions on three separate tube trains as well as a double-decker bus, the carnage leaving 52 dead and 700 wounded in the worst peacetime attack the city has ever experienced.
An agonising wait
David and fellow injured passengers on the train that had just pulled out of the Edgware Road station had to endure an agonising wait of nearly an hour in the pitch darkness of the tunnel before emergency services arrived, partly explained by the fact that communication difficulties in the event of an underground disaster of this nature had been largely untested.
He was bleeding to death, but thanks to the quick-thinking of Jason Rennie, a fellow South African who put his first aid training to use, and others including journalist Peter Zimonjic (who has well described the horror of it all in his gripping book Into the Darkness published by Vintage Books), he was kept alive and eventually stretchered off to nearby St Mary's Hospital, Paddington, where doctors fought for his life while his wife Angela walked across central London not knowing the full extent of his injuries (the transport system was closed down).
A nine-hour operation followed, with another shortly afterwards, during which his left leg was amputated and he had shrapnel removed from the other. His eardrum was pierced in the blast and he is on permanent medication to counter the effects of losing his spleen. But adapting to a series of prosthetic limbs has been a particular challenge.
Refusing to buckle under adversity
However, David refused to buckle under the weight of his adversity, determining to live life to the full. He soon returned to work, travelling by tube, and when in later years the transport system was snowbound, he walked the five miles to his office!
He has since contributed to police counter-terrorism efforts by sharing his experiences with forces both here in the UK as well as in California. He has also supported the work of the Douglas Bader Foundation dedicated to helping those with similar injuries, and (as an ex-Comrades Marathon runner and general sports lover) has taken part in disability sports.
Family life is also a key focus with growing children Matthew, 13, and Alice, 8. In addition, he is a committed member of his church where he is head server (and Angela churchwarden) and has continued to take part in theatre productions — he was actually going over his lines for the lead role of Brutus in Shakespeare's Julius Caesar when the Edgware Road bomb went off beside him. He was about to direct and perform in the play at the time, but it was inevitably postponed and in the end he took to the stage for the production (complete with prosthetic limb) exactly a year after the bombings when an Evening Standard headline described him as the "Bravest of the Brave!"
Forgiveness for those who harmed him
David holds no grudges against the perpetrators. He takes a Christian attitude of forgiveness for those who harmed him, believing that it was not so much hate that he experienced through it all, but the love of those who rescued him and went out of their way to help him.
In an interview with the Independent last week, he said: "I still keep in touch with my particular saviours and with other amputees and injured victims. We meet up every 7/7 — also with the paramedics, prosthetists and police who helped us that day, who got us walking again, who became part of our lives. The love I have experienced has outweighed the hate."
From my perspective, I know that it was not only medical expertise, but the prayers from Christians around the world that contributed to his remarkable recovery. I had been trying to book flight tickets to attend the 150th anniversary reunion of my old school (St Andrew's College, a private Anglican school) in South Africa when the disaster struck, which meant that I was in touch with a lot of people who had faith in a God who answers prayer.
Though battered and bruised, David is a living answer to prayer.