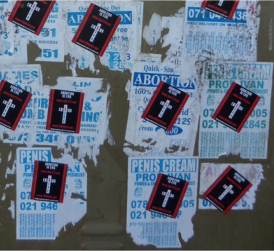 Originally published in iol news
A 26-year-old man was fined R15 000 on Wednesday (September 24, 2014) for putting up posters advertising services for illegal abortions, Johannesburg metro police said.
The man was putting up the posters at the Baragwanath taxi rank in Soweto, said Chief Superintendent Wayne Minnaar.
He was advertising for illegal abortions at R350 per person.
"If the man fails to pay the fine, a warrant of arrest will be authorised by the Johannesburg Magistrate's Court for his immediate arrest, as officers do know his whereabouts and his address," Minnaar said.
Illegal abortion advertising has become widespread in public spaces in South African cities and towns in recent years and reports of legal action against the perpetrators are rare. Christian prolife groups have responded by removing the posters, pasting prolife stickers over them and in a recent initiative a Bloemfontein doctor, Faan Oosthuizen, has called on Christians to lay criminal charges against illegal abortion advertisers by making use of a model charge he has drawn up.