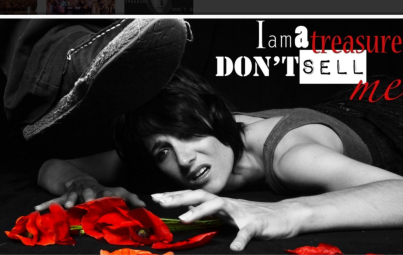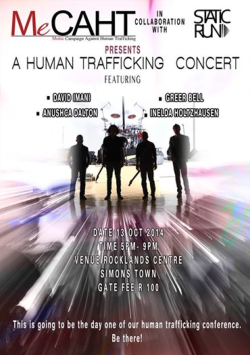 A music concert, soccer match, film festival and a gala evening are all part of the International Human Trafficking for Africa Conference from October 13 to 17, 2014 at the Rocklands Centre in Simonstown, Cape Town.
Organised by MeCHAT (Media Campaign Against Human Trafficking), the conference aims to motivate individuals and churches to become involved, but also to encourage those already actively involved in anti-trafficking initiatives. 
Other focus areas will be
to encourage trafficked men who are now survivors;
to intercede for Africa,
to form new networks
to use the media and God's light to fight this modern day slavery.
 "We call the victims 'Treasures' and our slogan at MeCAHT is 'I'm a treasure, don't sell me' ", says Anne Abok film director and MeCAHT founder/international director. "These victims are God's treasures in the dark and we hope to bring 100 'Treasures' to His light and love when we have our outreach to the streets as part of the conference." 
Listen to a radio ad for the conference:
View a video preview:
Opening event
The conference will open on October 13 with a "Restoration" concert hosted by international Christian rock band, Static Run. The Cape Town based band will be joined by music ministers David Imani, Anuscga Dalton, Greer Bell and Inelda Holtzhauzen. The concert will take place at the Rocklands Centre from 5pm to 9 pm. The gate fee is R100.
Film festival
On October14 the following three films will be screened at the anti-trafficking film festival:
"Portia" (directed by Anne Abok)
Portia is a victim of sex trafficking from the Eastern Cape. She has been trafficked and transported to work in massage parlours and the streets of the Western Cape. Portia is subjected to a life where her body is sold to get everything her pimp wants. 
  "My Story" (directed by Anne Abok)
This is the story of Sindiswa, a 14 year old girl who is sandwiched between following her dreams and her father's choice to be married to a 43 year old man. This film addresses the issue of "ukuthwala" child bride marriage as a form of human trafficking in South Africa.
"Fumanekile"(directed by Pam Zokufa)
A film on child abduction for child bride marriage.
"Europe In My Heart"(directed by Anne Abok) and "Another Side Of Life" (directed by Shane Vermooten) will also be available at conference but will not be screened due to time constraints.
Soccer match
Another exciting event is the soccer match on 16 October. This follows the salvation of four Nigerian trafficked men who were lured to South Africa under the pretext of playing soccer here. To pursue their passion for soccer and give them a sense of hope and a future, one of the survivors was encouraged to put a team together and start training for a tournament. Discipled by Ambassador and other Christian soccer ministries, this will be their second match. "Not all the men on the team are saved, so it is an outreach platform to win them to the Lord," says Abok. 
Training
On October 15 STOP (Stop Trafficking of People) will host a training session for pastors on how their churches can get involved in anti- trafficking initiatives. Workshops will also be held as well as an outreach to the streets. 
As a closing, a red carpet, black tie gala event will celebrate survivors of trafficking, give recognition of practitioners in the field of human trafficking, and present awards for the films. 
Total costs of the conference are R1 800 and include accommodation, meals and conference fees. Contact mecahtafrica@gmail.com for the costs of selected events or to register. More information is available on the Facebook page: www.facebook.com/mecaht and the website: www.mecahtinternational.org