[notice]A monthly column in which KWAKANYA NDLELENI shares testimonies of young people who are radical for Jesus.[/notice]
"Spending time with God is the key to our strength and success in all areas of life. Be sure that you never try to work God into your schedule, but always work your schedule around Him." — Joyce Meyer
Nkululeko NK Zungu is a living testament of dying to self on a daily basis. A young man from KZN, currently based in the city of Port Elizabeth; living and breathing for Christ. Men In Motion is a ministry God laid on his heart for a while, a ministry that gives birth to reinstating identity and affirming men (young and old) in this day and age.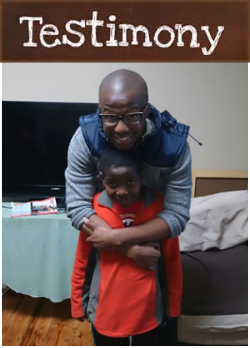 This is his testimony about Men in Motion:
"There is no role in modern society that suffers greater neglect than that of the role of a father. Most of the issues we read about in the newspapers and see on our television screens stem from one core issue — fatherless homes. Fatherlessness is one of the most significant family/social problems facing South Africa. Research supports the fact that children from fatherless homes are more likely to be poor, become involved in drug and alcohol abuse, drop out of school, and suffer from health and emotional problems. Boys are more likely to be involved in crime, and girls are more likely to become pregnant as teens. Unfortunately even when a father is physically present in a home, he may be emotionally absent which also contributes to the issue of fatherlessness. 
"I believe that the role of a father in the home is to be an overseer. The overseer must be above reproach, temperate, self-controlled, respectable, hospitable, able to teach, not violent but gentle and not quarrelsome. He must manage his family well and see that his children obey him with proper respect. It is this belief that has seen the birth of Men In Motion. Men In Motion is an organisation made up of a group of men that are committed to the core purpose of the organisation which is to guide men both young and old through the maze of masculinity, with the end result being a community overflowing with men who are willing to take their place and courageously take the lead in combating the many issues in our country as a whole. 
"The Men In Motion Big Brother initiative is one of the many initiatives we have in place to combat the issue of fatherlessness. Big brother is a programme that is primarily focused on grooming young male orphans, who have suffered from rejection and abuse,  into men who will lead their families and other orphans who find themselves in a similar predicament. 
"We are currently mentoring 12 young men that we meet with at least twice a month for contact sessions that are held at the children's home. The mandate that God has given us is to restore these young men physically,emotionally and spiritually through acts of love. All these boys really need is love of the highest order. 
"We follow the example of our Father in heaven who so loved the world that he gave. This act of love has seen the salvation and restoration of many and we believe that we have the ability to do what He has done and do even greater things. 
"We call on the men of Port Elizabeth to take a stand and join the movement. For more information please like the Men In Motion fan page on Facebook"