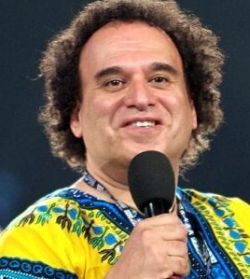 Sought-after youth leader and international speaker, Mike Pilavachi, will address an innovation summit about reaching Generation Y while utilising the principles revealed in Malcolm Gladwell's ground-breaking publication The Tipping Point.
The Alpha Innovation Summit at the His People N1 City church, Cape Town, on March 26 will also feature the internationally known Nicky Gumbel, founder of the Alpha course, being interviewed (via  live feed) by the Anglican Archbishop of Cape Town, Thabo Makgoba.
Pilavachi, founder of the Soul Survivor charity in Watford, United Kingdom, has become renowned for his knowledge and expertise on winning the talent game and mentoring future leaders.
He will be one of the keynote speakers at a summit set to explore new technological frontiers as well as megatrends in Africa.
Peter Hodson, Alpha-director in the Western Cape, will speak about technological changes the past two decades.
He will also talk about the Tipping Point principle which can bring social transformation to the very fabric of a Western Cape society which is occasionally challenged by gang warfare and violence.
Hodson said the "big, hairy, audacious goal is to reach 10 % of the Western Cape population by 2020 and persuade them to complete an Alpha course."
If just 10 % of a population holds an unshakable belief, their belief will always be adopted by the majority of society. He quoted professors Boleslaw Szymanski as saying that if the number of committed opinion holders is below 10 %, there is no visible progress in the spread of ideas. Once that number grows above 10 %, the idea spreads like flame.
The summit will also introduce TED talks as format. Every talk will be limited to 20 minutes. In all, 13 minutes of each talk must be presented in the way of stories that inspire and are memorable.
Hendrik Malan, Frost & Sullivan Africa Operations director, will provide an expert overview on megatrends in society the next 20 years.
Siviwe Minyi, coordinator: new developments of Alpha, will speak on how Alpha has captivated people in Guguletu, and the challenges facing the Alpha-movement in this buzzing township.
Jaun Truter, coordinator: Alpha in Western Cape, will address leaders on how the alarming reoffending rate of 80 % of the 3 000 SA prisoners released every month, can be reduced dramatically.
About 300 leaders are expected at the summit.
People who still want to attend the summit, can book their tickets on the website www.alphainnovationsummit.co.za. All bookings are made through Web tickets.