[notice]Pieter Pohl, founder of Innovation Films and marketing manager of CMD Entertainment Africa, sheds some light on the latest movies.[/notice]
We are excited to announce that on 22 July "God's Not Dead 2" will release in cinemas across South Africa.
Please visit www.godsnotdeadthemovie.co.za for more info.
Read Gateway News review of God's Not Dead 2
FAITH AFFIRMING MOVIES NOW AVAILABLE ON DVD
DOWN BY THE RIVER
MOVIE TRAILER & MORE INFO: http://www.cmdafrica.com/#!down-by-the-river/q06eg
ORDER DVD: http://www.cumbooks.co.za/down-by-the-river-dvd


Synopsis:
A family deals with the disease of sickle cell, in their youngest family member.
In the midst of this trying and prosperous time at moments, there are many other obstacles that come to play, that test the very foundation of this family.
Dove Review
This is a remarkable movie that many families will relate to in one way or another. It is based on a true story. Little Hannah, approaching her eighth birthday, is battling Sickle Cell Anemia. She lives with her mother, Tammy, and brother Skylar, who reads her stories and is very close to her. Skylar works as a mechanic but dreams of being a writer and submits a manuscript to several publishers but has to deal with rejection.
It is difficult for the family to endure the uncertainty of Hannah's medical condition. When Skylar meets a pretty young doctor, she becomes a big help to him. This story triumphantly shows how people are forced to deal with suffering and death but how pulling together is so important for families to support each other. The actors in this story are terrific, including Sean Johnson as Skylar (he also wrote the script), Adriana Ford as Hannah, and Alethea Bailey as her mother, Tammy. This touching story will move you!
We are pleased to award it our Dove "Family-Approved" Seal for ages twelve plus. – www.dove.org
SUNDAY BLOCKBUSTER
(Sun 03 July '16: MNet 20:05 & MNet Movies Premiere 20:30)
JURASSIC WORLD
PG13V – CAUTION FOR YOUNGER VIEWERS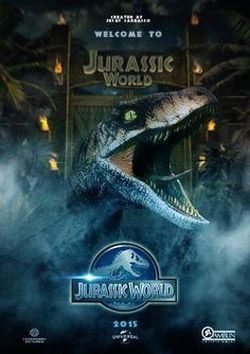 Synopsis
Twenty-two years after the events of "Jurassic Park," Isla Nublar now features a fully functioning dinosaur theme park, Jurassic World, as originally envisioned by John Hammond. After 10 years of operation and visitor rates declining, in order to fulfill a corporate mandate a new attraction is created to re-spark visitor interest. It backfires horribly.
Dove Review
"Jurassic World" is an eye-popping movie—truly visually stunning. The action starts slowly, but when it kicks in it's in high gear right away. It all starts with one dinosaur escaping his enclosure, which means people running, screaming, and even being eaten.
The corporate suits had decided that the park needed a new attraction, so a new dinosaur was genetically engineered. There have been no problems at the park up to this point. In fact, Owen Grady (Chris Pratt) has even trained the Raptors and they seem to respect him, at least for the most part. But when the new dinosaur escapes, the chaos begins. You can be sure that the new dinosaur is not the only star of the show; a few old friends return.
The film is not all about the dinosaurs, however. Brothers Zach and Gray (Nick Robinson and Ty Simpkins) are at Jurassic World to spend time with their Aunt Claire (Bryce Dallas Howard). She helps oversee the park's operations and makes the comment that consumers want the dinosaurs "bigger, louder, and with more teeth." She hands her nephews off to a co-worker the first day they arrive.
The family isn't close—she doesn't know the boys' ages—but that changes when the boys are put at risk and she is determined to first find them and then protect them. She and Owen Grady also develop a romance after she saves his life and his first response is to kiss her. The human moments are intertwined with the dinosaur chaos, such as when Gray tells Zach that their parents each hired divorce lawyers.
The movie highlights the danger of human arrogance, especially when a man named Hoskins (Vincent D'Onofrio) is convinced he can easily contain the dinosaur situation. Of course it doesn't quite work out! Another theme is the importance of relationships, as characterized by the two brothers.
The special effects are amazing and the film is fast paced. Two hours go by quickly once the first dinosaur escapes. Not surprisingly there are a lot of frightening scenes including several people becoming lunch for the dinosaurs—with blood-spraying results. Due to these blood-filled scenes and strong language, we sadly cannot award "Jurassic World" our Dove "Family-Approved" Seal. – www.dove.org