[notice]Pieter Pohl, founder of Innovation Films and marketing manager of CMD Entertainment Africa, sheds some light on the latest movies.[/notice]
We are excited to announce that on July 22 God's Not Dead 2 will release in cinemas across South Africa.
Please visit www.godsnotdeadthemovie.co.za for more info.
Read Gateway News review of God's Not Dead 2
FAITH AFFIRMING MOVIES NOW AVAILABLE ON DVD
TURN AROUND JAKE
MOVIE TRAILER & MORE INFO: http://www.cmdafrica.com/#!turn-around-jake/ikk8e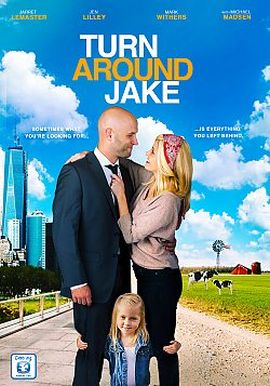 Synopsis:
Sometimes life just takes a turn. Jacob Zaker (Jarret Lemasters) is a rising business prodigy working under the guidance of his corrupt boss, Russell O'Malley (Michael Madsen).
Life is sweet until a government investigation targets Jake while investigating illegal business practices at his firm. Overnight he loses it all: his career, his downtown penthouse, and his attractive high-class fiancé.
Left without options, Jake escapes from Los Angeles to his childhood home in rural Texas where he is forced to deal with the consequences of his broken relationship with his father, Leo Zaker (Mark Withers) and the girl he left behind, Jessica Henry (Jen Lilley).
While struggling to reclaim his life in Los Angeles amidst the scheming of his former boss, Jake learns a family secret that forces him to make the biggest decision of his life.
Dove Review
The big, alluring world of business sometimes proves that it is not what it is cracked up to be. Jake has been in Los Angeles for six years and has worked for a crooked company that cheated on government contracts. When the FBI raids his office and he is fired from his big-salary job, there is nowhere to turn except to go home to Texas. When he gets home he discovers that because of his influence many things have happened there.
"Turnaround Jake" is an inspiring movie that highlights the adage that there is no place like home. Many young people today think that the big city and big business is the way to go. This film shows that sometimes when you leave the place you grew up, you don't realize what you really left behind until you come face to face with the truth.
This entertaining story depicts how you can turn your life around when you face the past and take a good look at what you really want. The Dove "Family-Approved" Seal for ages 12 plus is awarded to "Turnaround Jake." – www.dove.org 
SUNDAY BLOCKBUSTER
(Sun 10 July '16: MNet 20:05 & MNet Movies Premiere 20:30)
SCHUKS! PAY BACK THE MONEY!
Movie Trailer: https://youtu.be/i59__qZDR4k
PG13VL – CAUTION FOR YOUNGER VIEWERS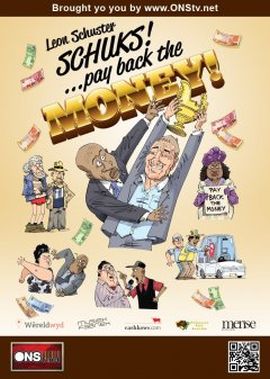 Synopsis
After losing rugby's holy grail, the Currie Cup, Schuks (Leon Schuster) sets off on a hilarious journey to pay for what he has done. In lieu of a R1 million fine, the Sports Minister (Desmond Dube) offers Schuks a lifeline to create a documentary film that shows South Africa in a positive light.
As the documentary takes shape, the Currie Cup traverses its own perilous journey as it moves from two clueless crooks, Bossie (Ivan Lucas) and Savage (Gerrit Schoonhoven), to an enterprising traffic officer and a conniving pawnbroker, among others.
True to form, the documentary features a series of brand new candid camera gags for which Schuster is so well known, featuring unsuspecting South African citizens and a host of famous personalities and celebrities – both past and current.