Pieter Pohl, founder of Innovation Films and marketing manager of CMD Entertainment Africa, sheds some light on the latest movies.
INSPIRING NEW MOVIES NOW ON DVD!
CMD Entertainment Africa brings you inspiring new movies on DVD this festive season. The Case for Christ, Return to the Hiding Place, I'm Not Ashamed, Joseph and Mary, Peter: The Redemption and a new animation series for kids — IESODO. This Christmas season spend some quality family time together watching these thought-provoking, heart-warming and uplifting stories. Visit CUM Books and Takealot.com to get these fantastic DVD's as gifts for your loved ones.
For more info visit www.cmdafrica.com
FAITH AFFIRMING MOVIES NOW ON DVD!
THE INSANITY OF GOD
Movie trailer & more info: https://www.youtube.com/watch?v=XX6SWxwKZSE
13 PG V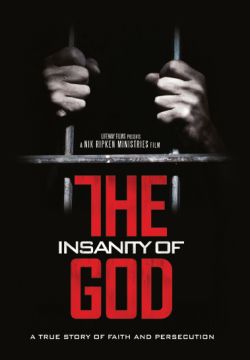 Synopsis:
The riveting true story of missionaries Nik and Ruth Ripken! Venturing into some of the darkest places on earth, the Ripkens sought to bring light to the persecuted church. After the death of their son, they asked life's hardest questions — emerging with wisdom and encouragement for all who seek to follow God when He "doesn't make sense."
Movieguide Review — "Freedom To Share Faith"
The Insanity of God is a documentary that chronicles a couple's life as Christian missionaries and the incredible stories they experienced and heard. When Nik and Ruth Ripken decided to become missionaries in Africa, they had no idea it would turn into a search for answers all over the world. They suffered malaria and witnessed brutal abuses and warfare in Africa, along with many other difficulties. After Africa, Nik travelled to China and Russia and discovered the brutal persecution Christians face in those countries. Through many interviews with other believers, Nik found what freedom to share the Gospel truly means. He also realised the church can find joy even in the darkest trials.
The Insanity of God is deeply moving and highlights important issues. While it has a strong Christian, biblical worldview, discretion is advised for older children. The movie has many graphic descriptions of abuses committed against Christians, and frank images of the poor conditions millions of people endure in impoverished areas. There are also references to drugs and bloody conflict. Some scenes in The Insanity Of God may frighten younger children. — www.movieguide.org
SUNDAY BLOCKBUSTER
(Sunday December 10 2017: MNET 101 20:05)
TREVOR NOAH: WELCOME TO AMERICA
Movie trailer: https://m-net.dstv.com/movie/trevor-noah-welcome-to-america
13L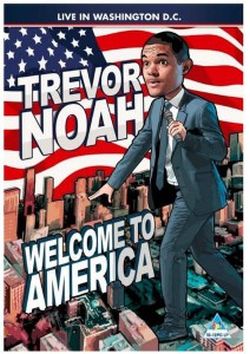 Summary:
Trevor Noah, South Africa's favourite stand-up comic, went to America to chase his dream. Not only did he find fame as host of The Daily Show, but he also found a new hobby: Racism-Spotting! Filmed at The Lincoln Theatre in Washington, DC, on the American leg of his Lost in Translation tour, Trevor brings his unique worldview and global analysis of American culture to the forefront. From being sold out by a Middle Eastern guy on a plane over an Ebola scare, to trying to figure out why there are no Mexican Jedi in the Star Wars films, Trevor pokes fun at his experience of life in America as a foreigner.
Review:
After watching Welcome to America, it is understandable why Trevor Noah is South Africa's favourite stand-up comedian, and has now found fame in America as the host of The Daily Show, with his razor-sharp wit and heightened sense of 'Racism Spotting'!
Noah's success can be attributed to the fact that he does not try to be funny, and never uses profanity to raise laughter. He has the natural ability to be funny, using oodles of charm, refined wit, and intelligent reasoning to turn the absurd reality of humanity inside out, leaving plenty food for thought as he provokes and challenges conventions.
Filmed as part of the Lost in Translation tour at The Lincoln Centre in Washington DC in 2015, Noah is truly "a thinking fan's comic, on a global scale!"
Some of the hilarious highlights include Noah's observations about the police force, how he became a token during the Ebola scare on a flight from South Africa to the States, a laugh-out-loud journey into Kentucky, and his observations about the American culture.
Reviewed by Daniel Dercksen, from The Writing Studio
Moviewise says: Although Trevor Noah's shows are enjoyable, it must be cautioned that he can be rude and some of his statements are not for the faint-hearted. Some content may be objectionable, and we advise viewers to be cautious, especially with younger viewers around.