Pieter Pohl, founder of Innovation Films and marketing manager of CMD Entertainment Africa, sheds some light on the latest movies.
INSPIRING NEW MOVIES NOW ON DVD!
CMD Entertainment Africa brings you inspiring new movies on DVD this festive season. The Case for Christ, Return to the Hiding Place, I'm Not Ashamed, Joseph and Mary, Peter: The Redemption and a new animation series for kids — IESODO. This Christmas season spend some quality family time together watching these thought-provoking, heart-warming and uplifting stories. Visit CUM Books and Takealot.com to get these fantastic DVD's as gifts for your loved ones.
For more info visit www.cmdafrica.com
FAITH AFFIRMING MOVIES NOW ON DVD — FOR KIDS!
I'M NOT ASHAMED
Movie trailer & more info: https://www.cmdafrica.com/im-not-ashamed
10 – 12 PG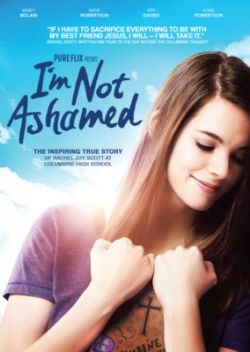 Synopsis:
Based on her honest and heartfelt journals, this hope-filled true story of Rachel Joy Scott at Columbine High School is an inspiring reminder that when we put our lives in God's hands, we can make a world of difference.
Dove Review:
I'm Not Ashamed is a tremendous film, based on the tragic but faith-filled story of Rachel Joy Scott, who died during the violent Columbine High School shooting in 1999. Masey McLain is phenomenal as Rachel. She brings joy to the part, along with a serious-minded faith. She plays the role and the struggles of her character very well. In the film, Rachel struggles with wanting to fit in with the partying crowd and liking a young man who does not share her faith. However, she always turns back to God and returns to church after her brief moments of doubt. Her generous spirit leads her to help out a homeless young man named Nate (Ben Davies), who becomes a big brother figure to her and joins her in her Christian faith.
Rachel helps those who are considered underdogs and even forgives a girl who winds up with the boy Rachel liked, after the boy cheated on Rachel with her. Despite the mocking of two "unusual" boys who like violent video games and spurn Rachel's speech in class on "compassion," Rachel marches forward, undeterred.
The handling of the violence is fairly tame and seems to feature true footage along with re-enactments. Rachel does not deny her faith but speaks up for God when the killers ask her if she still believes in Jesus. The film includes a scene of a boy with blood and gunshot holes on his T-shirt as he lies dead. Due to several scenes of underage drinking and smoking we are awarding the film our "Faith-Based" Seal, meaning it has a faith message but contains some objectionable material. The message of the film is clear: Rachel followed Christ to the point of death, and her life story has touched millions of people. Not long before she died, Rachel drew a picture of an eye crying 13 tears. Thirteen people died as a result of the Columbine shooting, including 12 students and one teacher. She also drew an outline of her hands as a child in her bedroom and wrote that one day she would touch millions of lives. She did. — www.dove.org
SUNDAY BLOCKBUSTER
(Sunday November 26 2017: MNET 101 20:05)
THE ACCOUNTANT
Movie trailer: https://www.youtube.com/watch?v=3KQX2sIhQJY
16VL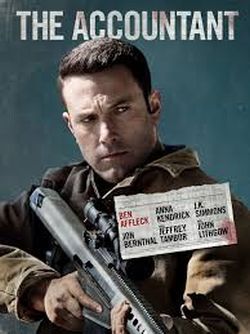 Summary:
The Accountant is a very entertaining thriller about a mathematical genius suffering from autism who's a freelance accountant for criminal organisations but who takes on a legitimate job that turns out to be more dangerous than even he imagined. The Accountant has many exciting twists and turns along with some impressive acting and emotional depth, plus uplifting moments, but it's set in a dark world containing some moral ambiguity and includes plenty of foul language and some brutal gun violence.
Movieguide Review — "Poignant but Violent, Expertly Made Crime Thriller"
The Accountant stars Ben Affleck as Christian Wolff, a freelance forensic accountant, who's also worked in the military and has a form of autism. Wolff is a mathematical genius who works for criminal organisations but sometimes rats them out to law enforcement when he feels they've crossed some line. To take the heat off, Wolff's mysterious handler, a computerised voice over his smart phone, advises him to accept a regular client. However, someone in the company decides to clean up their embezzlement by killing Wolff, the female junior accountant helping him and anyone else involved. Meanwhile, two Treasury agents are hot on Wolff's trail.
The Accountant turns out to be a complex morality tale and poignant but violent crime thriller. It sometimes plays like a riveting character study. As such, it's extremely entertaining and has a touching, uplifting ending. The acting, directing and writing are all top notch. Protecting innocent life, charity and compassionate treatment of autistic children are extolled. However, there's also a lot of foul language, very strong and intense violence, and some moral ambiguity. So, Movieguide® advises extreme caution. — www.movieguide.org