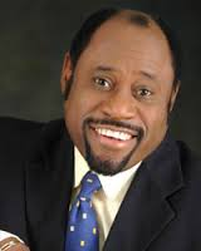 Originally published in allafrica.com
Celebrated international pastor DrMyles Munroe has called upon African leaders to emulate former South African president Nelson Mandela who ruled for only one term and relinquished power.
Speaking Tuesday afternoon during the 15th national prayer breakfast at Hotel Africana as the keynote speaker, Dr. Munroe said: "Africa has many politicians who are not leaders. Politicians are concerned about the next election but true leaders are concerned about the next generation. Leaders relinquish leadership positions for others."
Referring to Nelson Mandela as the greatest leader Africa has ever produced, Munroe said, "Mandela spent in prison more than 24 years but ruled for only one term. He did not use power to protect himself from people but used power to empower people."
Munroe advised leaders to always create strong institutions as foundations for national visions bearing in mind that whereas visions are permanent, leaders are temporal.
Explaining that every success in the world depends on the quality of leadership, Munroe argued that African nations are underdeveloped due to poor quality of leaders.
"Leadership determines everything in life. Nothing happens without leadership. Whether you are talking about an organisation, church or nation, everything depends on leadership for success. Leaders determine the quality and attitude of their followers. If your country is not effective, it is the fault of its leaders not its people," he elaborated.
Prophetic view
Speaking prophetically, Munroe said a time has come for third world countries to give solutions to developed nations.
"I believe Uganda is standing on the edge of greatness. I believe that the future of the world is in the third world countries. The followers will become the leaders. The students will become the teachers. The despised will become the glorious," Dr. Munroe said to applause.
Discouraging the begging syndrome, he appealed to Africans to develop an attitude that the solutions to African problems are not from outside but within the boarders of African nations.
Before Munroe spoke, President Museveni, quoting 2Thessalonians 3:10 which says 'those who don't work should not eat,' urged Christians to be hard-working and provide solutions for the social-economic transformation of their nations.
"I was in the US recently and found many Ugandans priding in staying there. But much of the social-economic transformation in western nations was brought by religious groups. The development of the US is linked to a religious group called puritans. But other than roaming the globe, what are the African Christians doing?" Museveni wondered.
Explaining that Europe has a middle class that is skilled, Museveni said, "In Europe there are no peasants. They have a skilled working class. But in Africa we have people who speak foreign languages without any skills and you call them middle class. It is a non-productive class."
Reading Mark 12: 30-31 which tells us to love God wholeheartedly and to love our neighbours as we love ourselves, President Museveni said, "If you do this, it means you believe in God no matter whether you are a Christian or a Muslim."
The president encouraged believers to always pray to God for His guidance before they make key decisions.
"If you pray about a problem, God will guide you. If you don't it, I am now telling you. I have never done any big thing without consulting God through prayer. In fact you are not sure, God will always bring a confirmation," Museveni said.
Amazing testimony
Earlier when the meeting had just started, senior presidential advisor Chris Rwakasisi gave an amazing testimony of how after relentless prayers an angel spoke to him in a dream that in three days he would be released from the prison where he had been incarcerated for 23 years on a death sentence and everything happened as he had been told in the dream.
Quoting Psalm 75:6-7 which says promotion comes from God, the deputy Chief of Defence Forces also gave a testimony of how out of patience and faithfulness to God he had been promoted by the president.
During the national prayer breakfast, which is a brainchild of the parliament Christian Fellowship, various MPs led the congregation in praying for various issues in line with the theme of advancing into the next 50 years with a national vision.
Besides other artists like Judith Babirye, Jackie Ssenyonga, Price Kwagala and Kidayo choir, the believers were greatly excited to see the parliament choir composed of MPs who also included the deputy speaker Jacob Oulanyah and the First Lady Janet Museveni singing the amazing grace song.