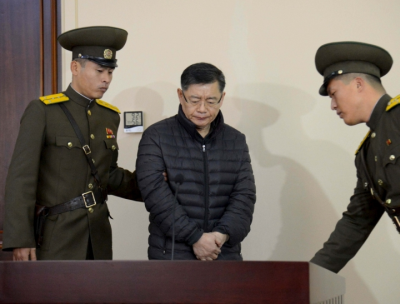 Originally published in Christian Examiner
North Korea's highest court sentenced 60-year-old Canadian pastor Hyeon Soo Lim to a life term of hard labor today for committing "crimes against the state."
Although the pastor has South Korean origins, he lives in Toronto and has traveled to North Korea on humanitarian missions for nearly two decades. A Canadian citizen, Lim has served as a pastor in Canada for 28 years and leads the Light Korean Presbyterian Church.
Lim has been imprisoned by North Korea since February. Calling him an "unforgivable criminal," the North Korean government asserts that Lim worked with the South Korean and United States governments to "undermine North Korean society," according to a video released today by Reuters.
The Reuters video shows the pastor apparently confessing to the crime on national North Korean television. The North Korean government news agency has reported that he has admitted to using humanitarian work as a "guise" for "subversive plots and activities in a sinister bid to build a religious state,"
according to BBC News.
Yet Lim's church says that's not true.
"It was not a political trip, it was about helping people," Lisa Pak, a church spokeswoman, toldThe Christian Science Monitor in March. "He doesn't hide [his faith] but he doesn't advertise it. He doesn't say he's a pastor. He's a humanitarian in Korea. He isn't 'Reverend,' he's Mr. Hyeon. We think [Korean authorities] know who he is."
The Canadian government has called the punishment "unduly harsh" considering Lim's age and health problems. According to Yahoo News, Canadian consular officials have been denied access to Lim. They say the trial was their "first opportunity to see him.".
Canadian Prime Minister Justin Trudeau has already spoken out about his concerns over the sentence.
"We have tremendous concern about it," Trudeau said according to Yahoo News. "The issues of North Korea's governance and judicial system are well-known and we are very concerned about someone being sentenced to life in North Korea."
Lim's church has been involved in ministry in North Korea since 1996. According to The Christian Science Monitor, the church's charity work had been under the protection of Jang Song-thaek, leader Kim Jong-un's uncle, who Kim executed 14 months ago. Lim has made more than 100 trips to the communist country for humanitarian work. According to his family, the trips were to support a nursing home, nursery and an orphanage. On his most recent trip, he was establishing an aid project in the northeastern city of Rajin.
Lim is married with one son.