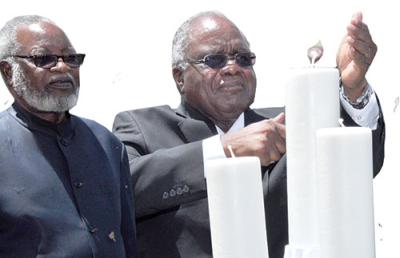 The Government of the small nation of Namibia needs special mention for declaring March 6, 2014 as a National Day of Prayer on Gender-Based Violence countrywide, says INcontext Ministries in its latest World In Motion newsletter (Number 95) published yesterday (March 20).
The newsletter report notes that all religious denominations throughout the country were invited to take part in the prayer initiative and the national day of prayer was held in all the 14 regions of the country.In Windhoek, President Hifikepunye Pohamba addressed the nation at the Sam Nujoma Stadium. On the day of prayer, all liquor outlets in the country were closed, and employers were asked to release their staff to attend the prayer events.
In response to an observation from Gateway News that leaders of other faiths reportedly participated in Day of Prayer events, a spokesman for INcontext Ministries said that their founder, Mike Burnard was in Namibia over the weekend and says the church there was very positive about the day of prayer and say the president is a committed Christian and leads Namibia from a foundation of Christian principles. The churches say the day of prayer was set in motion as a Christian event.The joining of other faiths came later, as a move to involve the whole country. The spokesman said Burnard therefore sees the day as a Christian event, because for the Namibian church, is was seen as a Christian event.
Reporting on the prayer event that filled a stadium in the capital, Windhoek, Namibian news publication New Era reports: "The prayer session in Windhoek saw sermons from Reverend Maria Kapere, Secretary General of the Council of Churches in Namibia (CCN) and Muslim Sheikh Abdullah Haroon on gender-based violence in general, Sandra Tjitendero on peace, and Rabbi Zvi Gorelick on family values. It was however the sermon by Pastor Zelda van der Colf that moved the crowd to join in with spontaneous Pentecostal-type prayers of their own with hands raised in the air."