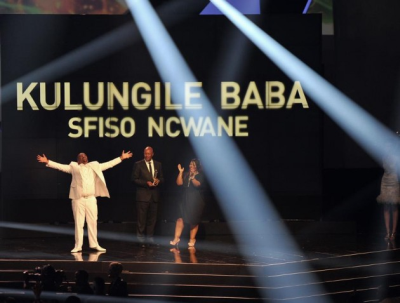 'God was in control of song'
A little bit of music history was made at the 19th MTN South African Music Awards at Sun City on Saturday night when for the first time ever a gospel album, Kulungile Baba, by Sifiso Ncwane, scooped the prestigious Record of the Year award.
In an interview on SABC TV News on the day after the award, Ncwane said that when he recorded the song Kulungile Baba he was not in control — God was in control.
He said that while driving around the country he has encountered white people listening to Kulungile Baba. They told him they did not understand the words but they could feel the presence of God in the music.
Watch the TV News interview below:
Born in Port Shepstone, KwaZulu Natal in the late 70s, Ncwane started singing in church at the age of 8. He released his first album in KZN in 1999 and then moved to the big city, Johannesburg in 2001. His career took off and he released albums with various record companies, finally establishing his own label. His achievments include platinum releases and various gospel awards, including a Crown Gospel award in 2009,f or best classic of all times, for the song Umkhuleko.
Ncwane is also committed to giving back to the community, having done albums to raise funds for orphanages. Together with his wife he established the Sfiso Ncwane Bursary Foundation (SNBF).
Watch Kulungile Baba music video:
Writing in Business Day Live yesterday, entertainment writer Gwen Ansell commented that the victory of a gospel artist in the SAMA is long overdue.
She writes: "Gospel is South Africa's most popular music genre. Such is the size of the gospel market here that it could swallow all other music genres and still have stomach-space to spare.
"Yet that popularity is rarely reflected in airplay or media coverage. Gospel is perceived by advertisers as the music of those with limited spending power; they are reluctant to have their products surrounded by it on airwaves or in newspapers.
"As a result, its coverage is ghettoised and stereotyped.
"Television slots still resemble those the genre occupied in the 1980s: ugly sets, formulaic camera work, banal continuity.
"Serious cultural columns do not discuss developments in gospel styles or composition, although these are as real and important as they are in any other genre.
"At best, gospel music is patronised; at worst, it is ignored.
"Yet gospel music has played an important part in South African cultural history, drawing from and feeding into other genres (including jazz) in terms of musical language and compositional and performance approaches. Great composers, from Ntsikana onwards, have contributed to its repertoire.
"The resounding vote at the Samas ought to prompt the industry, and the media, to treat it far more seriously."
Christian music awards at the Samas were:
Best Traditional Faith Music Album
Various – Spirit of Praise Vol.4
Best Contemporary Faith Music Album
Ntokozo Mbambo – Filled