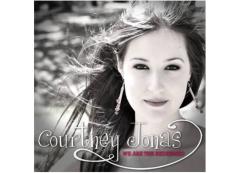 Multi-talented local singer Courtney Jonas is releasing her first solo studio album, 'We Are the Redeemed', at the end of November says Christian Art Media in a media release.
The 23-year-0ld Cape Town singer, dancer, actress, songwriter and TV presenter has come a long way since her gospel debut in 2011. In just under two years she has married the man of her dreams, and will welcome their baby girl into the world early next year.
We Are the Redeemed is a carefully selected collection of upbeat tracks as well as intimate praise and worship numbers.
"The songs I wrote convey the message of perseverance and strength, never give up because God will never give up on you!" says Jonas. This album is based on Philippians 4:13 that says: "Yes, I can do all this through Him who gives me strength."
My Hand in Yours, Love Will, Wanna Stand by Your Side and We Are the Redeemed are the tracks that Courtney personally penned. The catchy worship track Wanna Stand by Your Side is the first single off We Are the Redeemed to be added to the airwaves. It is the buoyant worship number that will also be released to radio.
"It's this track which inspired the title of my album. I wrote the lyrics and my husband composed most of the melody. We were working outside of South Africa when God downloaded these lyrics into my heart and I put pen to paper. I believe this is the song that most people will connect with," says Jonas.
The album is a reflection of where Courtney is in her life. "Obviously during any process of recording an album there are challenges and frustrating times, but what is key is to try stick to what you believe in for the album. As long as the true essence of what the artist feels for the album is not lost then all is good!"
The album was recorded in Cape Town, at Traxtudio Music Productions where her husband, Riaan Steyn, produced the album. Courtney's taste in music is inspired by gospel greats such as Rebecca St James, Amy Grant, Rachael Lampa, and newcomer Kerrie Roberts to name a few.