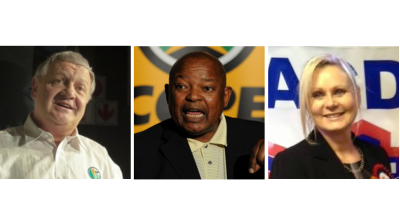 Five opposition parties, including two Christian parties, have formed a coalition called the Collective for Democracy to contest the general elections next year, they announced yesterday (Tuesday, December 17).
The alliance partners are the African Christian Democratic Party (ACDP), the United Christian Democratic Party (UCDP), Congress of the People (Cope), the Freedom Front Plus (FF Plus), and the Inkatha Freedom Party (IFP).
The Collective for Democracy was negotiated over several years with a view to finding common ground and aims to secure enough representation to challenge the ruling party and form a new government, said chairperson Mosiuoa Lekota, who is also leader of Cope, which recently announced that it had merged with the small Christian Party, the National Republican Party (NRP).
The parties to the coalition negotiated 20 'joint areas of priority' that were formally accepted at a signing ceremony yesterday. The agreed areas include prioritising education and training, referring the Protection of State Information Bill to the Constitutional Court, protecting minority communities and religious freedom, ensuring strict separation of party and state, and the review of the 'bloated' government to ensure efficiency and affordability.
The Collective for Democracy said it will soon announce its team of potential representatives "that will draw on the best people within the parties while focusing on corruption free, competent, trusted candidates". It said other parties are welcome to join the coalition as long as they agreed to the agreed principles.
ACDP MP Cheryllyn Dudley, who signed the coalition agreement on behalf of ACDP President, Rev Kenneth Meshoe, who is currently abroad, said:"The ACDP is of the opinion that this 'Collective' of political parties is the best way of benefiting from the rich diversity of the South African people while ensuring that we are responsive to the aspirations and needs of this diverse people.
"The ACDP – will retain its own identity and manifesto while also contesting the elections collectively from a Common Manifesto of priority issues.
"By working together however, we believe the Collective for democracy can focus on drawing votes from a broader section of society – of course – It will be important for the ACDP to continue to increase its support base in order to strengthen its potential for influencing South Africa through the 'Collective' in line with Christian Democratic Principles and moral values.
"The ACDP, inspired by Christian Democratic principles, and motivated by the example of the Democratic Unionist Party in Belfast Ireland (DUP) – and the legacy of MADIBA – has embraced and committed to the realization of a 'Shared Future' for all South Africans.
"The 'Collective for Democracy' is a demonstration of this commitment to a peaceful and prosperous South Africa for all who live here – a commitment to working together to achieve our collective dreams and goals ensuring our children and future generations have the future they deserve."
FF Plus leader Pieter Mulder said: "Coalitions are an important part of our electoral system and makes it possible for voters to vote for the party closest to their values, but still vote against the ANC. Our wonderful country is diverse, and so our future should reflect that."