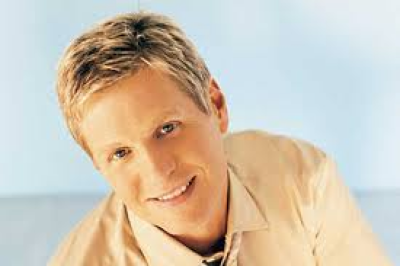 Steve Green, one of the world's foremost gospel singers for just on three decades, is returning to South Africa for his third concert tour of the country. This time it spans only two weekends, and he is doing it for a Christian charity that has made a big impact for the children of the world.
Orphan's Promise (OP), founded by Terry Meeuwsen the co-host of the well-known television programme 700 Club, seeks to help orphans and vulnerable children in many places around the globe. Terry will be at certain of the services and concerts. Several OP projects in Mpumalanga, the Soweto surrounds and Cape Town will benefit from the proceeds of the concerts. Steve, his pianist Dick Tunney and brother/manager David, have received an offering from their ministry partners in the USA to enable them to make the return flight over.
Throughout his years of ministry, Steve's music has been honoured with four Grammy nominations, 18 No 1 songs, and seven Dove Awards, Christian music's highest honour. With 37 recordings to his credit, including children's projects and Spanish-language albums, Green has sold over three million albums worldwide.
"[My 30th year in Christian music] is a significant marker," Steve muses. "I've been able to communicate the gospel in almost 50 countries around the world, and as God gives grace and strength, I look forward to many years to come. There are more songs to record, more people who need to hear God's truth and more segments of our culture to be redeemed for God's glory."
Given his love for children, it is significant that Steve is working with Orphan's Promise on this tour. The concerts will benefit the children, the care givers and the centres in which they operate, and at the same time entertain and minister to the audiences making their contributions. The full concert schedule is:
| | | |
| --- | --- | --- |
| Sun 17 Aug  09:00  Siloam Word Alive Church | Glen Marais, Edenvale | Offering |
| Sun 17 Aug  18:00  African Dream Family Church | Edenglen, Edenvale | Tickets, Computicket & Church |
| Tue 19 Aug  19:00  Manna Christian Fellowship | Nelspruit-White River Rd  | Tickets, Computicket & Church |
| Thur 21 Aug 19:00  NG Kerk, Oosterlig | Thur 21 Aug 19:00  NG Kerk, Oosterlig | Tickets, Computicket & Church |
| Fri 22 Aug   19:30     His People Centre | Goodwood, Cape Town | Tickets, Computicket & Church |
| Sun 24 Aug 09:00                 Shofar Christian Church  | Stellenbosch         (Bloemhof High School, Koch Street) | Offering |
Backing Steve and Dick will be some of the worship groups of the individual churches and certain guest artists, like Jan de Wet's quartet and Wanda Bam. 
A Steve Green song. Lyrics used by permission CCLI #587797 (J. Mohr, Randall Dennis)
To love the Lord our God is the heartbeat of our mission,
The spring from which our service overflows;
Across the street or around the world,
The mission's still the same,
Proclaim and live the truth in Jesus' name.