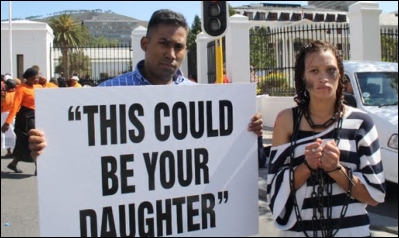 Organisations opposed to human trafficking protested outside the gates of Parliament in Cape Town yesterday to draw attention to the long delay in finalising legislation to protect vulnerable women and children from traffickers.
About 50 representatives of STOP, Justice Acts, Not for Sale, Straatwerk, the National Freedom Network  and the Family Policy Institute delivered a  Memorandum to Justice Minister, Jeff Radebe's office demanding the urgent finalisation and implementation of the long overdue Prevention and Combating in Trafficking in Persons Bill (TIP).
Some of the women and girl protesters wore soiled and tattered garments and were bound in chains in order to portray the hideous sexual exploitation and abuse inherent in the human slave trade .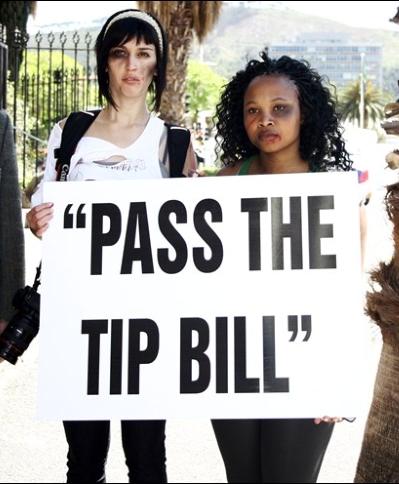 Gateway News reporter Mieneke van der Merwe asked some of the protesters why they were there and what they hoped to achieve. This is what they had to say: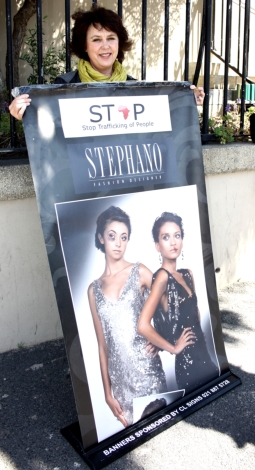 Corinne Sandenberg, STOP
"We wanted to focus national attention on the growing crime.  It's the biggest criminal deed against humanity; it's the most profitable 'career' in the criminal world.
"But people aren't interested until their own child is affected. Human trafficking won't be treated as  a crime until there's a law against it. It's shocking that SA doesn't have a law against it. Most of America and even Lesotho have a law against it.
"We handed the memorandum over to the Government. Now we just need PE behind us."
Taryn Hodgson, Christian Action Campaign:
"We wanted to  create awareness about the modern slave trade. The Anti-Human Trafficking Bill has been stalled for too long. It needs to be finalised so that there can be better law enforcement."
Jane Joubert, photographer:
"I wanted to defend the weak and the fatherless; bring a realization to what's happening. The real trade feels like a movie scene, but it's not. It's real."
Zitle Xapa, student:
"I participated just to cry out for those who can't talk for themselves; cry for help.
"Also, I was almost a part of it. I applied for a job and through a strange phone call, realised it was a scam. "
In a media statement released this week, Family Policy Institute director, Errol Naidoo, says  the amount of time and energy that legislators spent on the Information Bill was unjustifiable in relation to the delay in finalising TIP.
"The message Government is sending to the nation is that protecting state secrets from its citizens is more important than protecting its citizens from traffickers and organised crime."
He says: "The undue delay in the finalisation of this Bill benefits human traffickers and crime syndicates plying their evil trade in SA and puts thousands of vulnerable women and  children at increased risk.
"We are concerned that as a result of the lack of comprehensive legislation to effen trafficking crimes – the heinous nature and prevalence of these crimes may remain undetected, incorrectly documented and consequently, underestimated!"
The memorandum handed to the government yesterday appeals to President Jacob Zuma, Justice and Constitutional Development Minister, Jeff Radebe and Justice Portfolio Committee Chairperson, Luwellyn Landers to prioritise the anti-traficking legislation by ensuring its rapid passage through both Houses of Parliament and its immediate signing into law before the end of  2011.
Naido urges South African citizens to support the campaign by praying for the passing of the Bill and by writing to Radebe at kmaditla@justice.gov.za and, using their own words, requesting him to prioritise the Anti-Trafficking Bill in Parliament to protect vulnerable women and children. He requests correspondents to also  copy the Chairperson of the Justice Portfolio Committee, Luwellyn Landers and committee members at the following email addresses:
dschafer@parliament.gov.za; jsibanyoni@parliament.gov.za; jvandermerwe@parliament.gov.za; llanders@parliament.gov.za; luzelle@ananzi.co.za; mmentor@parliament.gov.za; msmuts@parliament.gov.za; sholomisa@parliament.gov.za; sswart@parliament.gov.za; vramaano@parliament.gov.za; moriani-ambrosini@parliament.gov.za; johnj@po.gov.za.