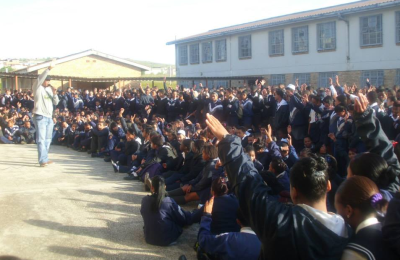 Anybody observing  Reeze Telling  coaching young cricketers, counselling  juvenile drug abusers, or introducing school learners to the Lord Jesus Christ would conclude that he is a young man with a passion to serve and disciple young people.
It would be hard to believe that just two and a half years ago he was a gaunt, broken, tik addict who repeatedly stole from his family and friends to support his habit, scrounged in refuse bins looking for food scraps, and made several attempts to kill himself.
It would also be a challenge to picture him as the ambitious 21-year-old Reeze Telling of eight years ago who played provincial cricket, had lots of money for his age, and seemed on course to achieve his ultimate dream of playing for the Proteas.
God using bad for good
Telling has his own perspective on the three different versions of himself: "God is using the bad that I did for the greater good of His Kingdom.  And I believe that I was not meant to become a professional sportsman. I was meant to become a star for God so that He could use what He did in my life so that I could bring my fellow brothers and sisters in my area to Him."
In the past year Telling has co-founded two organisations that are respectively taking on the evils of drug addiction and human trafficking, been appointed cricket coach for the Gelvandale Centre of Excellence,  and is partnering with other Christian activists in taking back the streets and the parks of Port Elizabeth's Northern Areas from gangs.
I chatted to him this week about the twisty road he has travelled to the place where he now serves God and his community.
His father died when he was nine years old and he was raised by his mother and grandmother who did their best to provide him with a stable start in life. He was sent to good schools but left school in his Grade 11 year, at the age of 18, deciding to pursue a career in cricket, a sport in which he had already shone in provincial age-group sides. He enrolled in the Eastern Province Cricket Academy and later grabbed an opportunity to fast-track his career ambitions by transferring to Northerns Cricket where he was soon selected to play for the Titans.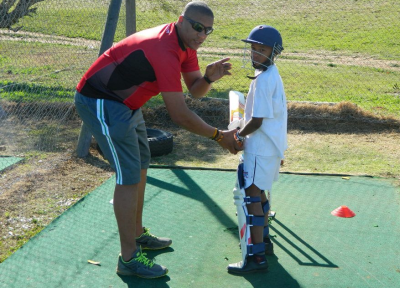 Telling pushed himself as a frontline batsman and bowler and paid the price by tearing his left calf ligament. He aggravated the injury by continuing to play, doing his best to hide his agony from his teammates. When he finally saw a doctor, by which time he had signed a contract with a club in England, he was told than unless he took a complete break from cricket for seven to eight years his leg would have to be amputated.
He returned home to Gelvandale, Port Elizabeth where he was initially happy to be reunited with his family. But as he saw his former cricket teammates on television he became depressed as the reality of his broken dreams sunk in. He began to hang out with young people who spent their time riding around in taxis. There were pretty girls and he enjoyed a certain celebrity status because of his sports achievements and his money – he still had an income from sponsors with whom he had signed a two-years contract.
Desperate to be accepted by his new friends he offered to pay for everybody's admission and drinks costs when they went clubbing. He was introduced to ecstasy and cocaine and started to drink heavily. One night when he did not want to go home to his family because he was drunk he booked into a hotel, inviting his friends to party on with him. That night he was introduced to tik – a drug which he now calls the devil. And certainly his next few years took on a hellish direction.
Lost everything
"When I looked again I had lost everything — all my money and my family. Within the first two years of starting to smoke tik I started to steal from my family and lie to them. Decent friends would invite me to house parties and I would look around their homes for things to steal."
 Tellings' descent into drug addiction was frightening. He stole his mother's wedding ring and sold it for R250 – it was worth R5 000. He also borrowed a friend's laptop and pawned it, claiming that it was stolen by gangsters. Towards the end of his tik nightmare he stole and sold his mother's fridge. 
"I found myself in jail four times. You would hear guys screaming at 1 or 2am because they were being raped," he said.
Things got so bad that he sold drugs for dealers accepting  tik as payment. Sometimes he went for four to five days without eating because he had no appetite as as long as he had drugs. When the drugs ran out he would beg and scrounge for food.
He deceived and manipulated his doting 82-year-old grandmother, getting her to go out and borrow money for him. Late one night she was attacked by dogs and broke her leg while out soliciting money for him. His family moved away leaving him living in the garage of the family home.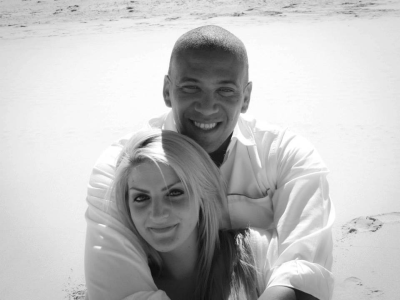 During his last of several attempts to commit suicide by taking an overdose of pills he trashed everything in his room and while in a dazed state wrote a letter in which he asked God to take him out of his terrible situation, promising that if God would give him a better life he would give his all to Him. The letter reached his uncle and a pastor who subsequently came to see him. They persuaded him to get help at a Christian drug rehabilitation centre in Cape Town.
In Cape Town he had doubts about going into the rehab programme but had a change of heart after he turned on the car radio to what he thought was a secular station and heard a gospel song that spoke to him. The song was 'It wasn't easy but it was worth it' by Cece Winans.
His mother had to pay R4 000 upfront to admit him in the programme. The team at the centre began to minister to him and he told them he wanted God in his life.
Salvation
"On that day, the 16th of March 2011, I accepted Christ into my life. That is the day that I received my salvation. You know God has been so good to me. While in rehab I was delivered from years of drugs and smoking and alcohol addiction without any withdrawal symptoms."
During his six months stay in the centre he said God spoke to him saying he needed to go back to Port Elizabeth where people knew him and his sporting history, and where he should try to get people out of their involvement with drugs.
He managed to get a job in Port Elizabeth and joined a cricket club where he earned the 'batsman of the year' award.  God had healed his leg and he developed a love for cricket again but no longer desired to become a professional cricketer.
A year later, prompted by God he quit his job to make more time to accept invitations to share his testimony at schools. MEC Christian Martin provided him with office space for counselling young people battling with drugs.
Through God's grace and righteousness, he says doors have opened for him to reach out to many young people.
He has been appointed as coach for the Gelvandale Centre of Excellence, a project of the Eastern Province Cricket Development Programme, where he coaches cricket and ministers to youngsters through his life story.
Together with his Canadian fiancé La Derrah he established A Fighting Chance (AFC), which tackles drugs, gangs and human trafficking issues through a range of community interventions. The two are also part of a group of people which founded the Nelson Mandela Bay Justice Coalition, which deals with human trafficking.
Incredibly, AFC recently received its Non Profit Organisation number just a week after applying.
"That is God!" said Telling of their great bureaucratic favour. "It is confirmation to us that we are doing what God wants us to do. He is opening up doors that no man can shut and God deserves all the honour and all the glory for what is happening."
Drugs crisis at schools
Telling says the drug scene at schools in the Northern Areas is critical. During one two weeks period one school referred 20 children to him for drug counselling. He investigated and found that learners were selling drugs at school, including dagga laced with tik to make it more addictive. He said he also found that Christian societies were weak or non-existent at many schools and so he has taken steps to re-establish Christian groups at schools.
One of AFC's short term goals is to establish an affordable drug rehabilitation centre somewhere outside of the city.
"I was fortunate going to rehab in Cape Town. But most of the kids here could not afford the cost of rehab," he said.
He is excited about an innovative programme that AFC is launching at two Northern Areas schools next term. The schools have agreed to stop suspending learners for drug offences and instead to refer them to a lifeskills programme that will be run by AFC at the schools. Suspending children puts them on the streets where they are at greater risk, he said.  Teaching them lifeskills offers them a chance.
He is also fired up by a partnership between AFC and like-minded Christian group, Truth Squad, in which they host 'block parties' in Northern Areas parks using music and dance to attract young people. Five hundred young people came to the last 'block party' in a Gelvandale park.
"At the end of the evening people shared testimonies and we saw young and older boys and girls crying and committing their lives to Christ," he said.
He said gangsters have made parks unsafe for children. "But we are claiming the parks back for the Kingdom. We are taking it [the area] back, street by street, park by park, block by block for Christ."