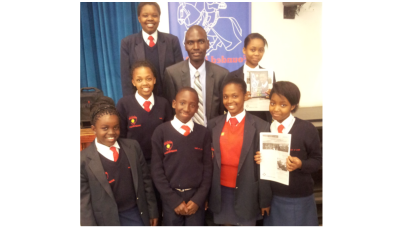 Port Elizabeth school, Blessing Christian Academy has launched a quarterly newspaper aimed at providing Christian learners in the city with a platform for sharing Christ.
"It is not for Blessing Christian Academy but for the city. We hope for contributions from other schools," said the school founder and Governor, Blessing Marunga at a recent launch function at St George's Primary School.
In addition to a printed version of the newspaper, Youth Christ Connect, there is an online version at www.youthchristconnect.co.za. The 28-page inaugural edition features articles about the history of the school, its Connect Group (a group of learners who visit other schools and educational institutions to share the gospel through music and preaching), as well as some inspirational Christian content. The vision is for Christian learners in the city to contribute the bulk of the content.
At the newspaper launch the school also displayed copies of Thou Art The Christ, its home-grown CD single and DVD featuring a school documentary. The CD and DVD can be ordered online or by phoning 072 092 0058 / 084 082 5887 / 078 231 2057.  More information about advertising in or sponsoring the newspaper can be obtained via the same channels.