Inspiring SA-made film releases in March 2014
Making the movie the Perfect Wave was a calling from God but there was a time when it seemed that it might never happen, says Bruce MacDonald, the South African director of the inspiring true-life testimony film that will be released in SA, Australia and the USA in March 2014.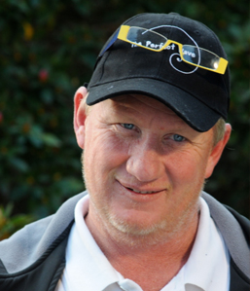 He says seeing the blockbuster Christian movie 'Fireproof' in 2009 sparked the inspiration that led to making The Perfect Wave film about itinerant New Zealand surfer, Ian Mc Cormack's life-changing, close encounter with God after he was stung by deadly box jellyfish.
Cape Town-based TV commercial director MacDonald's says the project was birthed after his wife asked him to watch Fireproof. He found the movie incredible and the experience planted the seed in him to direct a feature film. He just didn't know which film it would be. Sometime later his mother-in-law mentioned the name Ian MacCormack, and Mac Donald said it was then that he knew God had chosen this testimony for his venture.
Facing financial problems at first, Mac Donald says he questioned whether he would ever raise the funds needed to get the project going. But after speaking to some friends at a restaurant he realised that taking on this film was a calling from God, Himself. Surprisingly his friends, then gave him the first R200 000 needed towards the R26-million budget. It would take him nearly three years to raise the rest of the funds needed.
Power of God
The Perfect Wave, is a movie that epitomises the power of God, and the humbling experience that His forgiveness is life changing. The story is based on MacCormack's travels, which he began in 1980, only returning back home to New Zealand two years later, after a close encounter with God which will leave moviegoers in awe. The movie trails MacCormack's travels across the world in what could only be described as a surfer's endless holiday. Before beginning his journey of "self discovery", McCormack had all but given up on his faith and had declared himself an atheist. His travels led him from his New Zealand home, to Australia, Bali and Mauritius. Life was carefree, and mostly spent surfing, while also experiencing what he thought was love…which just never lasted.
Healing a broken heart, McCormack then continued his journey, only to be stung by several box jellyfish, one of the most venomous creatures on the planet.The movie then spirals into suspense mode, with McCormack encountering several obstacles on his search for help, leaving him close to death. The ultimate test of faith happens while in hospital, where McCormack gives up his fight, and literally meets his Maker. The encounter with God changes his life forever and he lives to tell the tale.
The international cast is headed by Scott Eastwood (Ian McCormack), Rachel Hendrix (Annabel) who had the lead role in October Baby, and veteran performer Cheryl Ladd (Mrs McCormack) who is best known from the TV series Charlie's Angels. Top South African surfers Rosy Hodge and Matt Bromley also have roles in the movie.
View the trailer: