A monthly column bringing you frontline testimonies of what God is stirring up across the globe. By international revivalist Lindy-Ann Hopley, Beautiful Witness Ministries.
Welcome to this month's article of Global Awakening!
I am so glad you found us here and that we get to rejoice together in what God is doing around the world! A global awakening!
You and I get to be apart of it!
This month I am sharing about and speaking into something very different than usual. Being rather vulnerable and transparent, but I believe and trust that my journey of breakthrough will release courage and faith to accelerate you into the new season God already has pre-planned for your life before the beginning of time!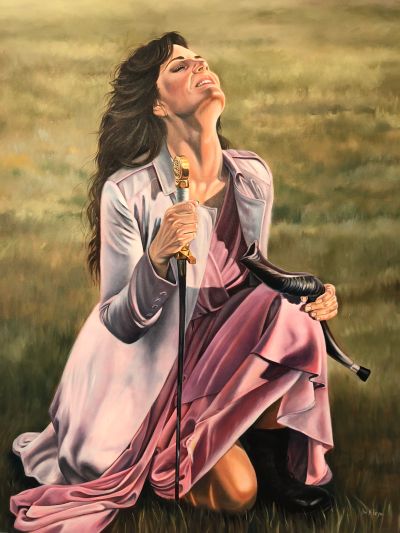 ABOVE: It's Time painting gifted to me on Monday evening by South African artist — Ilse Kleyn (www.ilsekleyn.co.za). Scripture reference: Isaiah 60:1 "Arise and shine, for your light has come, and the Glory of the Lord has risen upon you!"
You will see the significance of the painting as you keep reading.
Now is the time to 'step in and step up'!
You need to persevere in the secret place with God and He will promote you in public to the places He has set out for you!
What I have noticed since I was a young Christian is that many things that I face and pursue breakthrough for on a personal level are soon followed by a corporate similarity. This is like when the prophets in the Old Testament faced something before the whole "tribe" did, and were then able to minister out of their breakthrough to the bigger group now needing it. I believe this is connected to the prophetic breaker anointing many forerunners carry. Perhaps you have noticed something similar in your own life?
It is not always the case. Of course there are small instances that have nothing to do with anybody except you and whoever else might be concerned. But, there are those times when you feel like David facing Goliath on behalf of more than your own survival — that is when you need to pay attention.  It's similar to receiving a word of knowledge for healing (for instance a slight pain in your body) and you know this is not for you, but for someone else. The key is to discern that this is a matter bigger than me personally.
Persecution and trials
This last month, for me personally, has been a time of persecution and trials galore. The fire of God was bringing many things to the surface, making sure I dealt with some heart issues and refining it till it was shining like gold.
I found myself in tears, realising how many hurts I still had towards the Church, feeling used by her, the lack of financial support, yet with thousands cheering me on via social media, rejection, abandonment and more.
It was as if everything came at the same time! Everything! People messaging me the strangest things, someone putting terrible things on my Facebook wall, people not keeping their commitments — oh and the list went on!
The strangest thing was that their seemed to be no person around to help. I asked some people to pray, but no one was physically available for counsel or coffee.
He was drawing me to Himself
I would pray and pray and do more praying. Forgiving and repenting. Finding resonance with Kari Jobe's Desert Song – "This is my prayer in the desert, when all that's within me feels dry… I will bring praise, I will bring praise — no weapon formed against me shall remain". Go listen if you have a chance.
I would receive crazy dreams about a huge harvest ready to be gathered! I had to walk by faith and not by sight. In the natural everything seemed to be going wrong, but the promises from the Lord were increasing at a rapid pace!
Finally, I declared a fast, went to the hospital to pray for the sick and the hurting (some literally chained to the beds), got together with a friend to take on what needed to be addressed in the spirit realm and took communion.
Everything came back into perspective
It all shifted. In an instant.
I woke up the next morning unopressed. Whatever had been sitting on me was gone! My joy was back. The little foxes dead. Back in the vine. Ready to shine.
No place
When the devil came to Jesus in the desert, the Bible says: "but he could find no place in Him". Jesus had no wound in His soul the devil could latch onto.
When the 40 days were over the Bible reads : "Jesus, now filled with power,…" – Jesus was catapulted into His calling after receiving the Spirit and overcoming the temptations and accusations against His identity, His call and His inheritance as heir.
The word the Lord gave me in this time
John 14. It starts as follows, "Don't let your hearts be troubled. Trust in God, and trust also in me".
Vs 20 "When I am raised to life again, you will know that I am in my Father, and you are in me, and I am in you."
Step into Him
Will you allow God to reveal the wounds in your soul and bring healing to you today?
Just ask Him.
He knew His Father and His call.
What dreams has He given you?
On the Thursday of Easter Weekend I received a vivid dream from the Lord. Bigger than myself. I believe it is a commission for the saints. Both you and I.
The dream: I was part of what seemed to be a group of tourists in the Middle East. Towards the end of the tour I proclaimed if we don't go swim now we won't have a chance. I started running towards the ocean. I could see people looking at me — running in public was inappropriate. But I didn't stop. I ran with an urgency in my heart. When I got to the ocean, I stepped out onto the peer. To my right, on the beach, was a group of women covered in colourful cloth,  sitting under a tree having a religious study time. They were clearly Muslim. Then I looked into the ocean — it was full of thousands and thousands of fish! It seemed that there were too many fish for the ocean; they were starting to come out of the water! I looked back towards the edge of the shore and even large fish were swimming in the shallow end. I thought to myself: "You don't even have to jump into the water — even if you just put out a fishing net from the side of the shore you will be able to catch big fish!". There was more, but I will stop there for now.
Dreams followed one after the other. I held on to every promise.
This past Saturday evening I dreamt that I was the singer on a small stage, but the instrumentalist didn't want to give me the microphone. Then they brought her some deep-fried fish and she did not want to share it with me. I was hungry. I then went into the kitchen backstage and saw huge tables set out at the back with large bowls of the biggest prawns and crayfish tails I had ever seen. It was a feast! In that moment I thought:"I didn't know our ocean held this!" I went outside to grab a handful of prawns, but as I looked up to see who was sitting around the tables I saw it was only men. I withdrew my hand and went back into the kitchen. "There are only men there!", I said to someone who was inside. The person sternly said: "Don't be ridiculous- go out there and eat. It is for you!"
The harvest is ready — are you?
In the world of dreams  the kitchen represents a place of preparation. The time of fighting over scraps in the Church is at an end. It is the time to go out there and reap the harvest which is upon us.
Allow the Lord to do the necessary preparation in the secret place, so that together we can sit at the greatest banqueting table the Lord has prepared.
The end time harvest.
Promotion
The following day…
was my ordination.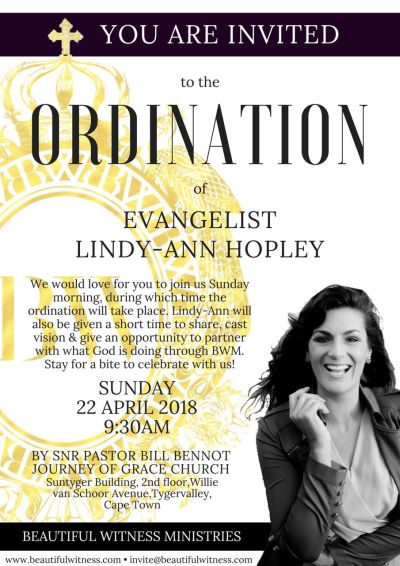 It was more special than I ever imagined. It was as if I stepped out of the kitchen into something brand new. An acceleration of promotion in the natural and the spirit realm.
It was glorious!
You are invited to watch here:
We are 🎤🎥 LIVE 🔥⚡️👑 from my home church Journey of Grace in Cape Town🇿🇦. Ordained by heaven in 2007, but now it's live. On earth as it is in heaven 💜If you want to partner : https://www.beautifulwitness.com/partnerdetailsSouth Africans (for once off or to set up recurring payments) please use :1. SA Bank account (best)Or 2. Zapper. Rest of world 🌎 SA Account for large donations.Moonclerk is in $ (once off / recurring)PayPal: once off only.

Gepostet von Lindy-Ann Beautiful Witness Ministries am Sonntag, 22. April 2018
And in this time God has prompted me to invite people to partner with the Great Commission through Beautiful Witness Ministries.
If you have a heart for the harvest and you want to sow into what God is doing through BWM, consider becoming a monthly partner. No matter how big or how small we appreciate your generosity. The fields are ripe.
Will you make a knot in the net with us?
We need you.
You can do so by clicking here to view different ways: https://www.beautifulwitness.com/partnerdetails
Use our SA account to setup a recurring payment with your bank.
Thank you!
God has the same for you!
I believe you are on the edge of breakthrough!!!
I charge you to stand! Hold steadfast to your faith. Spend time with Abba. What has He spoken over you? "Faith comes by hearing, by hearing the Word" — this word refers to the Rhema word of God. The spoken word is only received when speaking to God and taking the time to listen to Him speaking over you.
Bless you!
I hope this message has radically blessed you and given you nuggets and insights to keep on running this race full-steam ahead.
Persevere and watch as the Lord promotes you into deeper places with Him. He is the reward.
Step in and step up into who He has called you to be.
"Arise amd shine, for your light has come, and the Glory of the Lord has risen upon you!"
Want to know Jesus?
I don't know where you are in your walk with God as you read this message today, but I want to invite you to come back to the Father's house. God is calling out to His children all around the world, inviting them to the greatest wedding feast — of which we can not even imagine the magnitude and splendour!
Will you say yes?
It is by faith in Jesus that we are saved. Here is a prayer you can pray: "God, thank you for loving me! That You sent your only Son that if I believe I will not perish, but have eternal life. On this day I choose to leave my old life behind and come home to you! I repent. Forgive me of my sins (name them). I know you have a better plan for my life! I believe in Jesus, the Son of God who died for my sin and sickness, born of a virgin, who rose again and is sitting next to the Father in heaven, so that I too may live! Through faith in Jesus I am now born again. I am righteous by faith! I am a child of God! I am a new creation! My name is written in the book of Life!"
If you prayed this prayer today all of heaven is celebrating for you right now! Tell three of your close friends! Read the Bible — start in the book of John. Find a fiery church, alive with truth and love. Slot in!
I would love to hear from you and pray with you myself.
Also if you have a testimony from a touch from God you received through BWM, Please email me at Lindy-Ann@beautifulwitness.com
Remember, all creation is waiting for you!
Go for it!
Till next month…
Love and fire.
Evangelist Lindy-Ann
For more exciting news follow us on Facebook: Lindy-Ann Beautiful Witness Ministries.
For upcoming events and more visit: www.beautifulwitness.com