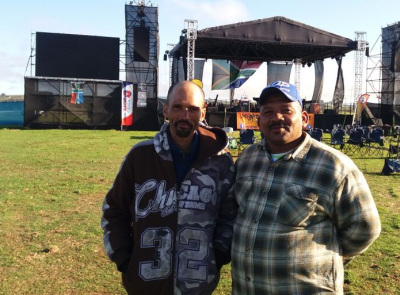 God's trail of grace from Karoo to Cape
Sometimes when God delivers people from destruction it is possible to glimpse stages of the Divine rescue plan over a period of time.
Such is the case with Hyman Adams, 34, who at the Mighty Men Western Cape on Saturday, September 26 was delivered from a hopeless life of drugs and gangsterism.
KMMC
The first stage of Adams' rescue unfolded at the Karoo Mighty Men Conference (KMMC) near Middelburg in April this year, when Cape Town pastor and community leader Victor Louis was deeply moved by a testimony about the trap of devoting so much time and energy to ministry that no time is left for investing in family relationships. Louis responded by climbing a koppie and sitting down next to a big cross to draw close to God. He was found there and interviewed on video by a member of the KMMC media crew.
In the next stage, a copy of Ps Victor's video testimony was given to Ina Murison-McGowan, Head of MMC WC Marketing. She was moved by what she saw and set out to try and find Ps Victor and to invite him to the MMC Western Cape. She tracked him down to his church in Hinds Park by showing the clip to people until somebody recognised him and directed her to him. Ina and her husband, Piperjames McGowan (Chairman of MMC WC 2015) became friends with Pastor Victor.
Gang violence
The rescue plan can next be seen in Bonteheuwel, a Cape Town gang violence hotspot, where Adams was becoming increasingly disenchanted with his life that revolved around drugs ("buttons and tik") and gangs and guns. He says he once had a relationship with the Lord but turned his back on Christianity about six years ago after he became offended by a church which did not pay him for extensive building work he did for them. He says he had heard about people getting their lives straightened at Mighty Men Conferences and longed to go to one. He thought the MMC WC had already taken place but nevertheless found himself hitchhiking to Malmesbury. He ended up taking a long, roundabout route, walking much of the way. In Malmesbury he heard people talking about the MMC that was happening near the town and he decided to go to it.
In the next stage of the rescue Adams arrived at the Mighty Men on Saturday (September 26, 2015) afternoon and sat down in front of the stage where men were listening to testimonies. Pastor Victor's video testimony played on the big screen.
'Pastor Victor?'
"He [Ps Victor] spoke about drugs and gangs and prison: I have been to prison too. His testimony really touched me. Then afterwards people were going back to their places and I saw this man coming on. I couldn't be sure it was the same person [who he had watched in the video clip] but I said: 'Pastor Victor?' He sad: 'Yes' and I just broke down."
Ps Victor says the experience of watching his own testimony on the big screen for the first time stirred him emotionally, bringing tears to his eyes as he relived the time he had felt God's presence so strongly in the Karoo and shared from his heart.
"I thought if it [his video testimony] could stir me, what could it do for others? It is wonderful what God can do. Then I picked up my chair and walked and as I passed him [Adams] he asked if I was Ps Victor. I saw tears in his eyes — tears are a sign of repentance — and I sat next to him thinking: here is somebody who wants to encounter the Lord."
Prayer of salvation
Ps Victor says after listening to Adams recounting how he had unexpectedly ended up at the MMC he told him: "This is your salvation." He led Adams in a prayer of returning to the Lord. He said he would stay in touch with Adams.
Recalling his own past as the leader of the violent 'Nice Times' gang in the 1980s, he says he often withdrew to spend time on his own and he sensed something within him saying 'Get away from here' but he couldn't change his lifestyle through his own willpower. His wife, Valerie, stood by him throughout always believing he would 'come right'.
He says ultimately God Himself saved him in a cell in Pollsmoor Prison as he felt compelled again and again to look across the cell at another prisoner who had a Bible and was preaching the Gospel message. Each time he looked at the man he saw light coming out of him and tears came to his eyes. He looked away each time and fought against the tears but God's power was too strong and he found himself going to the man and crying his heart out.
"I believe God saved me: I did not plan to repent; I did not save myself. But I believe God said 'I am dik with you who I have to put up with so much from. Come here!'
Dangerous men
"Some people you work gently with and others you must pull out of the fire. I believe I was pulled out of the fire and therefore I must talk to others who play with danger in the fire. God needs such [formerly] wild, dangerous men to reach men whose story is similar."
After his salvation Ps Victor served as a lowly worker for years in the Revelations Community Ministries church which he now leads. During this time he learned not to resent or be angry with those in authority over him which he was able to do because he understood it was God who had saved him. In 2010 he became the community leader of Hinds Park and was ordained. From 2011 to 2013 he went to Bible school and the church is now growing.
"I am so grateful to God."
During my interview with Hyman on Sunday (September 27, 2015) he said he knew he could not go back to Bonteheuwel where he believed his life was in danger from former rival gangsters who wanted to shoot him. He believed God had delivered him from drugs as for the first time he had no desire to use them. He did not even have a desire to smoke cigarettes. He thought he might go to Port Elizabeth to stay with relatives there.
Today, as I started to write this story, God revealed another part of his rescue plan. Adams contacted me and told me he is now staying in a Christian mission which just happens to be situated right next door to the farm where the MMC WC took place.